By: Jim Hildenbrand, 2011 Climate Corps Public Sector Fellow at Middletown Township, New Jersey; MEM candidate at the Nicholas School of the Environment, Duke University
Although Middletown is one of New Jersey's largest towns, its carbon footprint is small for its size. In 2010, Middletown attained Sustainable New Jersey Bronze status by committing to sustainable actions that involved tracking greenhouse gas emissions, mitigating solid waste through improved recycling, and educating the public on ways to reduce its environmental impact. The Township has received $700,000 in state and federal grants, conducted efficiency upgrades with at least 60% of costs covered, and a comprehensive energy assessment. In short, Middletown is committed to the environment.
However, with these environmental initiatives comes the challenge of tracking effort and making progress. For instance, one effort could be undone or made redundant by another. I dedicated the first half of my Climate Corps Public Sector fellowship to fully understand what had happened, what will happen, and what may happen.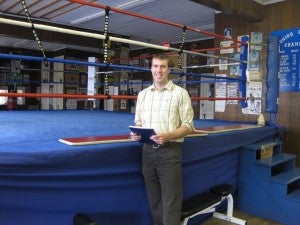 Now in the second half of my fellowship, the pace has not slackened and I am evaluating a variety of opportunities for energy savings. About 20 of Middletown's buildings consume 9,000 megawatt-hours per year. Each building is unique and no two buildings serve the same purpose. While this adds to the challenge, it has been a lot of fun. I explored a turn of the century schoolhouse that was retrofitted into a boxing ring. I also traversed the floors of the headmaster's house of a former all-boys school that is now used as the seat for the historical society, a gymnasium, and a drug rehabilitation program.
My approaches to energy efficiency span the spectrum. One size does not fit all in the realm of energy savings. For one building, I examine the possibility of consolidating thermostat controls to prevent its six rooftop units from working against each other. In another, white roofing is the best option to help lessen the cooling load. Just as no two buildings are the same, no two approaches toward energy efficiency are either. This customized approach to reducing energy bills and greenhouse gas pollution will keep Middletown's environmental impact to a minimum and inspire neighboring towns to do the same.
EDF Climate Corps Public Sector (CCPS) trains graduate students to identify energy efficiency savings in colleges, universities, local governments and houses of worship. The program focuses on partnerships with minority serving institutions and diverse communities. Apply as a CCPS fellow, read our blog posts and follow us on Twitter to get regular updates about this program.