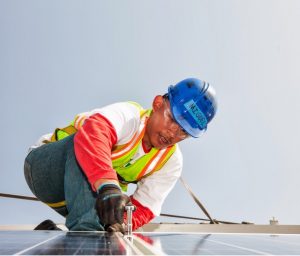 By: John A. Nicholson, Col., USMC (Ret), and EDF consultant
Veterans Day is a time for our nation to recognize and thank all those who have served in the military in peace and war. Moreover, it is a day to reflect and recommit to honoring the service of veterans.
But consider this: Five years ago, the unemployment rate among post-9/11 veterans was 12 percent. About 12 percent of veterans between the ages of 18-34 lived below the poverty level. One in seven homeless people were veterans.
These startling statistics prompted a national call to action in 2011 from the White House and others for employers to hire veterans and their spouses.
Enter Solar Ready Vets, a Department of Energy program aimed squarely at training veterans to work in the rapidly expanding solar energy industry, in which jobs have grown more than 20 percent in each of the last three years. Read More »