We're less than a month into 2016, and there are already signs that this could be the year the United States finally gets serious about addressing methane pollution from the oil and gas industry.
Some strong first steps in 2015 got the ball rolling, and now attention-grabbing events like the massive methane leak in Southern California and the announcement that 2015 was the warmest year on record are opening people's eyes to the urgency of tackling this potent climate-forcing pollution.
Great Strides Made in 2015
Many important first steps to curb oil and gas methane pollution were taken in 2015, most notably, the Obama administration setting a goal of reducing this pollution 40 to 45 percent by 2025. To help achieve this goal, the U.S. Environmental Protection Agency (EPA) in August proposed a national methane emissions standard for newly built oil and gas sources. The proposal received overwhelming support; nearly 850,000 comments in support of the rule were submitted to the agency: Investors and businesses big and small weighed in as well as national Latino organizations, civic leaders representing impacted communities, and state officials and editorial boards from oil and gas producing states.
The need for national action was further reinforced in 2015, with the release of new scientific studies (as part of an EDF-led 16 part research effort) that revealed methane emissions in some locations are higher than what's being reported in current federal inventories, and that these emissions are prevalent throughout the oil and gas supply chain. We have a bigger pollution problem on our hands than we thought, so we need to be bolder in our response.
Problems – and solutions – already seen in 2016
As 2016 began, we were starkly reminded of the need to take oil and gas methane pollution seriously as a natural gas storage well outside of Los Angeles continued to leak staggering amounts of methane pollution into the atmosphere. The leak has put the industry's unchecked methane pollution problem in the national spotlight, opening people's eyes to a problem that is occurring every day across the country unbeknownst to many.
But here's the good news: While awareness is growing, so is action to address the problem. Just weeks into the new year, states and the federal government have stepped up in their commitment to addressing methane pollution from today's oil and gas infrastructure.
Last week, Pennsylvania, the nation's second largest natural gas producer, released a concept paper that lays out their intention to set methane limits across the natural gas supply chain—positioning the state as a leader and setting a model for national action.
Days following Pennsylvania's announcement, the Bureau of Land Management proposed its long awaited rules to curb methane emissions by setting limits on wasteful venting and flaring of natural gas., This rule tackles both new and existing infrastructure and, once implemented, could cut up to $168 million in taxpayer and tribal-owned natural gas that's wasted every year—and have short term climate benefits equivalent to taking nearly 3 million cars off the road.
But the job is far from done…
We applaud these actions, and the early 2016 momentum has been impressive. But it's clear that much more needs to be done to realize the opportunity methane reductions present to slow down the rate of warming.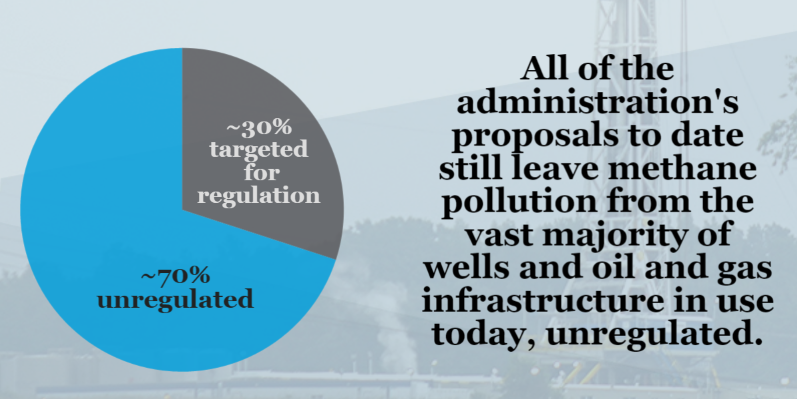 Even with all that's been proposed, the vast majority of methane emission sources in the United States (roughly 70 percent) would remain unregulated under the rules as they're currently written. More needs to be done by the administration—we can't rely on the oil and gas industry to fix this problem voluntarily.  And while states can be a model for national action, we need national standards to ensure that all communities receive the clean air protections they deserve.
It's increasingly urgent, and apparent, that additional action by EPA is needed. Momentum from the recent breakthrough agreement in Paris, coupled with overwhelming support for EPA's proposed new source rule and a boost from early 2016 action, gives EPA has a solid foundation to move forward with setting strong, common sense rules for existing oil and gas operations.
With readily available solutions and growing support among policy leaders and the general public, there's no reason to wait. We have a golden opportunity to change the global warming trajectory right now—one that could be measured in my children's lifetime! Let's not wait and squander this opportunity.
Tell President Obama and EPA Administrator McCarthy we need comprehensive action to reduce oil and gas methane pollution today.