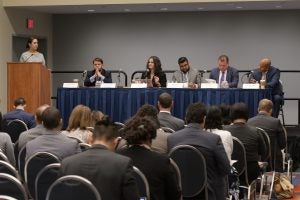 By: Andy Vargas, EDF Congressional Hispanic Caucus Institute (CHCI) Public Policy Fellow
Hispanic Heritage Month is in full swing! It has also been a welcome way to kick off my placement with Environmental Defense Fund (EDF) as a Congressional Hispanic Caucus Institute (CHCI) Public Policy Fellow. Each year, CHCI marks Hispanic Heritage Month with a Public Policy Conference elevating the issues most important to Latino communities. This year, I had the pleasure of representing both CHCI and EDF, introducing a panel on an emerging and critical topic for Latinos: clean energy.
Clean energy is key to protecting Latino communities from disproportionate impacts of climate change and pollution. At last week's conference, the National Hispanic Leadership Agenda (NHLA) highlighted that half the U.S. Latino population currently lives in the country's most polluted cities. NHLA also noted that asthma and chronic obstructive pulmonary disease are more prevalent in inner city Latino communities near carbon-producing power plants.
But clean energy also creates new "green jobs." In 2014, for example, the solar industry added jobs nearly 20 times faster than the national average. Many of these jobs pay decent salaries and don't require you to have a bachelor's degree – making those economic opportunities accessible to Latinos who might otherwise struggle to finance expensive higher education for four or more years.
With rapid growth of the clean energy economy, and a population growth on the horizon (Latino communities will double by 2050), the need for leadership that includes Latino voices will be key to ensuring clean energy solutions can offer a new path for their communities.
A public good
Congressman Ruben Gallego, a national Hispanic leader and former U.S. Marine, provided the panel an intense example of how dirty energy has impacted not only his life but the lives of his comrades, noting there were more casualties in fuel transport than in combat itself. Rep. Gallego reminded us that Latinos are too often on the front lines – not only as soldiers, but also on the front lines of climate change – and shifting to cleaner energy can protect our military overseas, as well as our communities at home. Therefore, Members of Congress, voters, business leaders, and others within the Latino community are encouraged to use their voices on climate change.
[Tweet "Clean Energy: An Emerging Path for Latino Communities"]
Jorge Morales, City Councilor from South Gate, California, shared a story of the shock he felt after learning that a child's life is more predetermined by their zip-code than by their genetics. If we truly want to combat climate change, Morales urged, leaders must open doors that increase access to clean energy programs that benefit not only wealthy individuals who can afford them, but also those who need them most.
Across the country, Latino leaders are stepping up. Jennifer Allen, National Director of Chispa at League of Conservation Voters, shared how Hispanic communities from Arizona to Virginia to Nevada are engaging in the clean energy conversation by demanding local and state governments provide more clean energy opportunities that are accessible to all communities.
Efficiency opportunities
With the Latino population increasing, it's about time Hispanic leaders take clean energy and climate change more seriously and become more vocal.
We are also seeing growing Latino participation in the clean energy private sector. Edwin Luevanos, Founder and CEO of Citizen Energy, is increasing access and affordability by helping buildings shift to energy efficiency and clean energy, like solar power and LED lighting. Recognizing that for many, cost can prevent the adoption of clean energy technology, Citizen Energy offers 0% financing that only gets paid back when their customers start saving on their energy bills. EDF is fostering similar on-bill financing programs among rural electric cooperatives in North Carolina.
With the Latino population increasing, it's about time Hispanic leaders take clean energy and climate change more seriously and become more vocal. Similarly, Latino leaders in their own fields are needed to offer solutions to climate change – not only within the Latino community but across all communities. Getting Latino communities engaged in clean energy projects that are affordable and easily accessible will be the challenge our Latino leaders face.