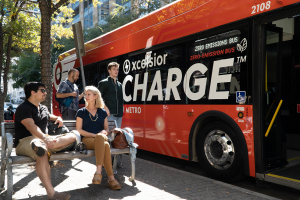 The business and environmental case for electrifying large electric vehicles – such as buses, delivery trucks, garbage trucks and regional "day cab" tractors used at ports – is gaining traction, and there's good reason to be excited about this momentum.
FedEx recently announced that it's adding 1,000 EV delivery vans to its fleet. Amazon announced a $700 million investment in an electric truck start-up and then pledged to have half of its deliveries be zero-emissions by 2030. And in California, all new municipal buses will be zero-emissions within a decade, the result of a bold new program adopted by the state's Air Resources Board last year.
As companies and local governments move from piloting electric fleets to full deployment, their climate potential is becoming clearer. For example, a recent Bloomberg report found that by the end of 2019, a cumulative 270,000 barrels a day of diesel demand will have been displaced by electric buses globally. That's more than three times the displacement by all the world's passenger electric vehicles.