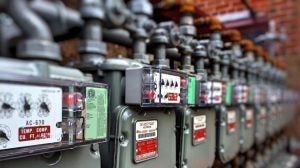 Over the past few years, Environmental Defense Fund (EDF) has actively opposed FirstEnergy in several cases where it sought bailouts for its uneconomic coal plants. We will continue to do so.
But if the utility giant wants to build a cleaner, more modern grid, we are eager to work together. Case in point: We are pleased to report that we reached an agreement on FirstEnergy's plan to spend $516 million on grid modernization, bringing about lower bills, greater customer choice and less pollution.
Following AEP and Dayton Power & Light's related agreements – both approved earlier this year – and in the midst of the Public Utilities Commission of Ohio's (PUCO) innovative PowerForward initiative, it's clear Ohio is on a path to a smarter, more sophisticated power system.
Solving a dilemma
Ohio's electric utilities have been grappling with two complex issues in multiple cases pending before the PUCO:
How to credit back to customers the savings from the 2018 Tax Cut and Jobs Act; and
How to modernize their grid.
FirstEnergy and Commission Staff developed a plan to kill two birds with one stone, combining the cases to ensure credit for the tax cut savings goes back to customers in full and FirstEnergy moves forward with a grid modernization plan.
Grid mod plan
FirstEnergy and Commission Staff, with input from EDF, designed a promising Phase 1 grid modernization plan that will deliver significant customer benefits, including:
• Data access: FirstEnergy will install 700,000 smart meters and evaluate tools for giving customers better access to their energy-use data, allowing customers more insight and opportunity to save on their energy bills;
• Lower bills: Customers' rates will reflect the lower operational costs from installing smart meters;
• Greater grid efficiency: FirstEnergy will install voltage optimization equipment with a goal of reducing the grid's energy usage by 4 percent;
• Dynamic rates: FirstEnergy will establish time-of-use rates so customers can choose to use electricity during off-peak times when electricity is cheaper and cleaner;
• Environmental metrics: FirstEnergy will measure the greenhouse gas emission reductions from these clean energy investments;
To ensure customers receive all available benefits, the PUCO Staff will do assessments, and FirstEnergy will provide detailed reporting and establish a collaborative working group – in which EDF will participate – to monitor the plan's implementation.
This settlement doesn't represent the end of the road. Ohio still needs to improve the process for providing customers with greater access to their energy-use data, as well as get utilities to follow grid-planning processes that optimize clean energy. We will continue to work with FirstEnergy and the Commission Staff on grid modernization through the PUCO's ground-breaking PowerForward initiative to achieve these results.
In the meantime, the PUCO should approve FirstEnergy's grid modernization plan, which will bring cleaner, more efficient power to Ohioans.
For more on how Ohio can attract innovation and investment through clean energy, please see the new Powering Ohio report.