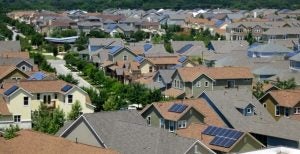 As the hot summer approached, Texas leaders expressed concern about potential blackouts and brownouts. Yet, thoughtful planning, a functional electricity market and clean energy helped ensure the lights stayed on.
Power outage concerns
Hotter temperatures and continued population and commercial growth drove record electricity demand this past summer. Additionally, in early 2018, Luminant (now Vistra) shut down three large coal plants – all inefficient and highly-polluting – with a combined capacity of 4,200 megawatts (MW).
The shutdown of these power plants and other changes in the electricity market initially led the state's electric grid operator, the Electric Reliability Council of Texas (ERCOT), to forecast few electricity-making resources would be available beyond the amount customers would likely demand.
As it turned out, even when ERCOT set a new system-wide demand record (73,308 MW) in July, no electricity shortages occurred. ERCOT didn't announce any energy emergencies and it didn't ask customers to use less electricity.
Here are three reasons:
1. State regulators encouraged power plants to properly plan for summer maintenance, while encouraging transmission and distribution companies to minimize maintenance during hours of peak demand;
2. High wholesale prices incentivized power plants to be online to make more electricity; and
3. Wind and solar plants produced more power than anticipated.
3 reasons Texas' electric grid survived a summer that pushed its limits
Click To Tweet
The leadership
The Public Utility Commission of Texas (PUC) and ERCOT worked proactively with industry to ensure commonsense actions were taken to keep power plants operating throughout the summer. For example, Chairman DeAnn Walker and the PUC urged power plants and transmission entities to perform maintenance before demand peaked, not between May and September.
The regulators also worked with companies that retail electricity to customers, to ensure smooth customer transitions if a seller exited the market.
The grid operated well under stress. ERCOT reports that when demand for electricity peaked in July, almost everything that could be online was.
The market
Power plants were also ready for higher projected wholesale electricity prices, and the competitive market responded appropriately to increased demand with increased wholesale energy prices.
In fact, increased demand and less reserves led to a 25-percent increase in the number of instances wholesale electricity prices were higher during June to August 2018, compared to the same months of 2017.
Distributed energy resources (DER) in ERCOT helped customers by relieving electric demand on hot days. DER are equipment that can make 10 MW or less of electricity at a customer's location, ranging from fossil-fueled systems to rooftop solar.
A noteworthy summer finding is, at grid points connected to about 100 mapped and registered DER (mainly small natural-gas generators), ERCOT saw that when prices went up, demand at those DER points went down. ERCOT is investigating this early data about the extent to which DER may be price responsive.
Reduced demand makes the grid more reliable. It's good that ERCOT is gathering information; it could be a first step to learning more about how DER may impact Texas' air quality and the market.
Clean energy
Over the summer, both wind and solar power plants delivered more electricity to the grid than ERCOT anticipated.
In addition, customers have connected to the grid and registered 244 MW of distributed, clean-energy generation, which includes solar. Customers have also connected about 181 MW of unregistered DER, mostly solar.
And though storage currently makes up a very small portion of the Texas market's DER, it will begin to play a larger role: ERCOT is currently working on requests to connect 1,886 MW of storage to the region's grid.
Looking ahead
Environmental Defense Fund congratulates the leadership and staff of the PUC and ERCOT for effectively managing the Texas power grid this summer. The companies that make and move electricity also maximized operations in ways that prevented blackouts and brownouts.
The PUC is now analyzing the market's summer performance for lessons that can help prepare for next summer and beyond. One issue is whether the Operating Reserve Demand Curve – a value added to wholesale electricity prices to further reflect the scarcity of reserves when demand is high – worked as intended. Another issue PUC will consider is the argument by some thermal power plants that costs incurred to ensure reliable operations during the summer were not adequately compensated by market prices.
The state's businesses and citizens are increasingly exercising their ability to choose the power source that makes the electricity they use. Their preferences, and new technologies like large-scale energy storage, are changing Texas' generation mix. With continued forethought, state regulators can keep protecting both the competitive market and grid reliability as more uneconomic coal plants shut down and wind and solar power continue to grow.
Photo source: Pecan Street, Inc.
This article originally appeared on Environmental Defense Fund's Texas Clean Air Matters blog.