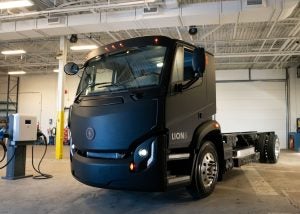 The North American truck and bus market is on the cusp of a zero-emission future. There is a clear and urgent need to drive down pollution from medium- and heavy-duty vehicles, which contribute to climate change and cause serious harm to human health. Companies, transit agencies and other organizations that operate large fleets understand this, and are moving swiftly to zero-emission alternatives. Manufacturers, recognizing the growing demand for zero-emission vehicles, are racing to bring more of these vehicles to market.
A new report from Environmental Defense Fund, The International Council on Clean Transportation and Propulsion Quebec demonstrates the magnitude of manufacturer investments. Race to zero: How manufacturers are positioned for zero-emission commercial trucks and buses in North America shows that every major truck and bus manufacturer is now developing at least one all-electric vehicle model or is part of an industry collaboration to bring zero-emission vehicles to market.
This growth in model availability demonstrates a marked change in an industry that, just a few years ago, had only a handful of zero-emission options on offer.