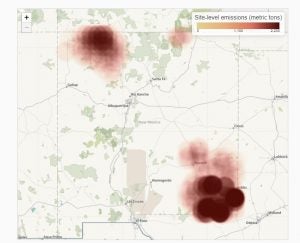 By Jon Goldstein and David Lyon
A new peer-reviewed study published today once again confirms the Permian Basin has some of the leakiest oil and gas wells in the country.
For the study, researchers with the University of Wyoming used a mobile methane laboratory to quantify emissions from 46 randomly selected well pads in New Mexico and 25 in Texas. They found those sites are emitting between 5 to 9 times more methane pollution than The Environmental Protection Agency estimates suggest.
This granular look at well pad emissions is a critical part of understanding what is causing the emissions. Earlier this year, EDF used this data to estimate total methane emissions across New Mexico and concluded the state was likely emitting up to one million metric tons of methane per year.
When combined with other measurement techniques, we can get an even clearer sense of the entire region's methane footprint. The satellite-based TROPOMI methane instrument, as well as aerial surveys conducted through our PermianMAP project — can detect emissions from other types of oil and gas equipment.
Together these projects indicate the Permian has ongoing emission issues. Researchers found that nearly 4% of gas produced in the Permian is emitted directly into the atmosphere — essentially negating the climate benefits of natural gas since methane is such a potent climate pollutant.
How to fix it
New Mexico's oil and gas regulatory agencies recently proposed new rules aimed at reducing methane emissions from oil and gas facilities, though this new research suggests that without key fixes their proposal will not fully address the state's emission problem.
Another study reveals Permian methane levels are abnormally high, reinforcing need for action
Click To Tweet
For example, the proposed air pollution rules from the New Mexico Environment Department do not apply to wells that produce less than 10 barrels of oil a day.
This new study reveals that just because a well may not produce a lot, does not necessarily mean it has low emissions. On average, low-producing wells in the study had higher emissions than their high-producing counterparts.
That's concerning since the current exemptions mean that 95% of wells in the state could go unchecked. These rules must be improved and exemptions deleted in order to meet Gov. Lujan Grisham's goal of enacting nationally leading methane standards.
The proposed rule from New Mexico's Oil Conservation Division is also designed to limit the volume of natural gas that oil and gas companies waste — both unintentionally, through leaky equipment, and intentionally, through flaring. Aerial surveys conducted by EDF earlier this year show that 11% of flares in the Permian are completely unlit or otherwise malfunctioning — making them a significant source of methane emissions.
It's evident that flaring policy — both in Texas and New Mexico — should also be designed to limit flaring to the greatest extent possible. In fact, states should work to end routine flaring altogether in order to curb emissions and waste.
All of this research makes it clear that methane pollution is a serious problem in the Permian Basin. State regulators in New Mexico need to close loopholes in the draft methane rules as they digest the comments they received. New Mexico is right to want to address the problem, but its proposal will need to be strengthened significantly in order to make meaningful reductions of oil and gas pollution.