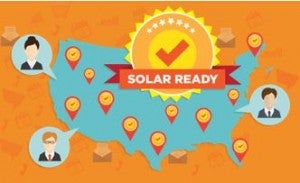 By: Jayant Kairam and Jorge Madrid
American cities have made excellent progress in installed solar. For example, the top 20 solar cities, which account for less than a 0.1 percent of total land area, account for six percent of solar capacity. But what's really exciting is the potential, which is figured to be nearly 1,200 GW, or enough power 790 million homes a year – more than double the current population. If we are able to tap this potential and harness more of our power from this clean, renewable resource, we could avoid substantial amounts of harmful pollution from the electricity sector.
One huge barrier to utilizing all this potential is "soft costs." These are costs associated with processing applications, issuing permits, inspections, and regulatory procedures. Laurence Berkeley National Lab finds soft costs related to permitting can increase typical rooftop installation prices by $700 and, combined with other soft cost factors, can increase a system price by as much as $2,500. These additional fees account for 50 to 70 percent of total rooftop solar costs in the U.S. today.
By expediting these processes, cities and third parties can reduce soft costs of solar installation, helping to spread this clean energy resource to more households and communities. Read More »