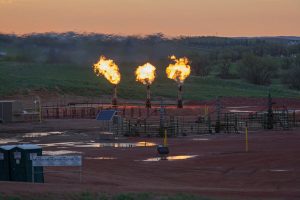 The first time I saw a natural gas flare in the oilfield was in 2015. Our team at Environmental Defense Fund was beginning to study methane emissions and collaborate with companies to solve the problem. Early one morning, we loaded into a van with industry collaborators and technology entrepreneurs, venturing out into the Eagle Ford Shale in south Texas.
Outside the van windows, flares dotted the landscape. A company representative explained that natural gas, or methane, was being burned on the spot rather than sent on for productive use in the economy. Why? Because there was no infrastructure in place to handle the gas coming from the region's wells, most of which were built to produce only oil for market.
The good news, he explained, was that the problem was just temporary. Infrastructure would soon catch up with oil well drilling. The flares would soon be extinguished for good.
But more than five years later, flares are still burning nonstop.