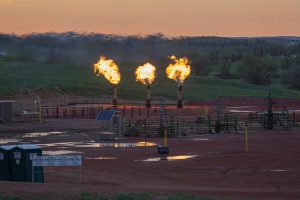 The first time I saw a natural gas flare in the oilfield was in 2015. Our team at Environmental Defense Fund was beginning to study methane emissions and collaborate with companies to solve the problem. Early one morning, we loaded into a van with industry collaborators and technology entrepreneurs, venturing out into the Eagle Ford Shale in south Texas.
Outside the van windows, flares dotted the landscape. A company representative explained that natural gas, or methane, was being burned on the spot rather than sent on for productive use in the economy. Why? Because there was no infrastructure in place to handle the gas coming from the region's wells, most of which were built to produce only oil for market.
The good news, he explained, was that the problem was just temporary. Infrastructure would soon catch up with oil well drilling. The flares would soon be extinguished for good.
But more than five years later, flares are still burning nonstop.
In fact, the flaring problem has only gotten worse, especially in the Permian Basin. In Texas alone, a trillion cubic feet of natural gas has been flared since 2013 — enough to meet the household needs of Texans for three years. And because flares are often either unlit or only partially combusting the gas they channel to the sky, flaring is one of the largest contributors of methane emissions to the atmosphere.
This waste destroys shareholder value and pollutes the environment, but it can be stopped. That's why it's so important and encouraging that investor and business leaders are using their voices to call for an end to flaring — exhibit A of a material ESG issue in the energy sector.
BP, Shell and investment giants call for Texas zero flaring regulations. Will others follow?
Click To Tweet
Leading investors speak up
Every institutional investor facing ESG challenges while choosing to remain invested in oil and gas has a responsibility to take an active part in the solution to problems like flaring. Fortunately, it's starting to happen now.
Last week, three leading firms — including top-20 global asset manager Legal & General, Wall Street titan AllianceBernstein and the public pension fund CalSTRS — urged the Texas Railroad Commission to regulate an end to routine flaring by 2025. In response to the RRC's very incomplete initial steps, the investors emphasized that "strong and effective regulatory action…is essential to build stakeholder confidence and solve this challenge across industry."
Moving forward, all financial firms that still bankroll oil and gas can and should engage to leave no doubt about where they stand, and no chance for the oilfield's most wasteful practice to remain part of business as usual. Asset managers like BlackRock, banks like Citi and private equity firms such as KKR are among those that have signaled a desire to lead on climate change and ESG. Such institutions have the opportunity — indeed, the responsibility — to walk the walk on tangible issues like flaring regulation.
Companies begin to step up
Texas regulators have virtually ignored flaring since the beginning of the shale boom. But times are changing for companies in the Lone Star State who have a business interest in addressing an industrywide problem with industrywide solutions. As Wall Street knows, strong policy is essential to build investor and public confidence at the sector level.
That's why it's encouraging to see that BP and Shell together endorsed the ambition of ending routine flaring in a letter to the RRC, while calling on the commission to establish regulations to make zero routine flaring a reality in a timely way. Earlier, Scott Sheffield, CEO of Pioneer Natural Resources, raised his voice on the need to eliminate flaring, as his company has showed that cutting flaring is not just for the supermajors.
The voices of other companies are necessary and welcome.
ExxonMobil reported reducing its own routine flaring at a pace that is easily consistent with eliminating routine flaring by 2025, while confirming that ending routine flaring is "within everyone's reach." Going forward, ExxonMobil must support regulation to ensure that vision doesn't slip out of anyone's grasp for 2025.
Chevron has reduced its own flaring to just 1%, well below the basin average, and stated bluntly that "routine flaring should not be a normal practice in the Permian." Government regulations are the best way to change normal practice by all operators across the Permian, and Chevron has every reason to support strong regulations.
EOG Resources, Occidental Petroleum, Parsley Energy and Apache Corporation are among the flaring problem solvers whose leadership is needed in the regulatory conversation. ConocoPhillips has consistently lagged behind its peers in failing to responsibly support methane regulation. However, the company has recently pulled a request for 41 flaring permits in Texas and could step up on flaring regulation.
Where we go from here
Working together, regulators, companies, investors and civil society can build a cleaner energy economy that works for business and for the environment. Extinguishing routine flaring, the eyesore of the oilfield, could be a tremendous win for the environment, the industry and the state of Texas.
EDF welcomes new voices and leadership from all corners. We can solve this problem by working together.