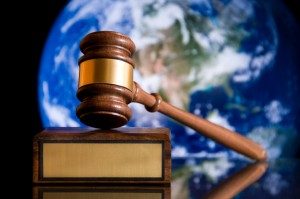 This week has brought alarming indications that the Trump Administration is poised to roll back life-saving, common-sense climate protections with no plan for replacing them — and that the head of the U.S. Environmental Protection Agency (EPA) rejects basic facts about climate change and the clean air laws he is charged with carrying out.
These developments fundamentally threaten efforts to address climate change – the direst environmental challenge of our time.
News reports say that President Trump is on the verge of signing an executive order aimed at revoking the Clean Power Plan – the only national limits on climate-destabilizing carbon pollution from existing power plants, which are our nation's largest source of these emissions.
EPA Administrator Scott Pruitt did an interview with CNBC in which he made the wildly inaccurate statement that there's "tremendous disagreement" about the role climate pollution plays in climate change, and said that he does "not agree that [carbon dioxide] is a primary contributor to the global warming that we see."
And in a second interview, on Fox Business, Pruitt questioned whether EPA has "the tools in the tool box to address [climate change]," and said "Congress has never spoken on this issue" — even though the Supreme Court has determined that the Clean Air Act, which was passed by Congress, does provide those "tools."
Pruitt does not have a scientific background — just an extensive history of bringing highly politicized lawsuits against environmental protections, and of using his public office on behalf of the fossil fuel interests that have helped fund his political career.
His statements are not just false and misleading representations of climate science. They also call into question whether he can faithfully discharge his clear responsibility under our nation's clean air laws to protect the public from climate pollution.
Pruitt Is Wrong on Climate Science
The U.S. government's leading scientific agencies have conclusively determined that climate change is "due primarily to human activities" and is already manifesting itself in rising sea levels, heat waves, more intense storms, and other severe impacts felt by communities across the country.
Just in the last year, respected scientists have reported that the impact of human emissions on climate change is evident in February heat waves, devastating Louisiana storms, and flooded coastal communities.
Contrary to Pruitt's statement that there's "tremendous disagreement" about human impacts on climate, there is overwhelming scientific consensus that human emissions of carbon dioxide are destabilizing our climate. This consensus has been affirmed by many of our nation's most respected scientists and scientific institutions, including:
NASA
Humans have increased atmospheric CO2 concentration by more than a third since the Industrial Revolution began. This is the most important long-lived 'forcing' of climate change. – NASA website

The planet's average surface temperature has risen about 2.0 degrees Fahrenheit (1.1 degrees Celsius) since the late 19th century, a change driven largely by increased carbon dioxide and other human-made emissions into the atmosphere. – NASA press release
U.S. National Academy of Sciences
Direct measurements of CO2 in the atmosphere and in air trapped in ice show that atmospheric CO2 increased by about 40% from 1800 to 2012. Measurements of different forms of carbon … reveal that this increase is due to human activities. Other greenhouse gases (notably methane and nitrous oxide) are also increasing as a consequence of human activities. The observed global surface temperature rise since 1900 is consistent with detailed calculations of the impacts of the observed increase in atmospheric CO2 (and other human-induced changes) on Earth's energy balance. – Climate Change: Evidence & Causes, page 5 (issued jointly with the Royal Society)
U.S. Global Change Research Program
Evidence from the top of the atmosphere to the depths of the oceans, collected by scientists and engineers from around the world, tells an unambiguous story: the planet is warming, and over the last half century, this warming has been driven primarily by human activity — predominantly the burning of fossil fuels. – U.S. Global Change Research Program website
More than 800 Earth Scientists (in a letter to then-President-Elect Donald Trump)
Publicly acknowledge that climate change is a real, human-caused, and urgent threat. If not, you will become the only government leader in the world to deny climate science. Your position will be at odds with virtually all climate scientists, most economists, military experts, fossil fuel companies and other business leaders, and the two-thirds of Americans worried about this issue. – scientists' letter
Pruitt either refuses to accept this science, or is unaware of it – and either possibility presents a huge problem for the nation's top environmental official.
Pruitt Has a Legal Obligation to Protect the Public from Climate Pollution
Pruitt's assertions that "Congress has not spoken" on climate change and that EPA may lack the "tools" to address the issue show that he is just as wrong on the law as he is on climate science.
Our nation's clean air laws require EPA to protect public health and well-being from all forms of dangerous pollution, and the Supreme Court has recognized on three separate occasions that this responsibility clearly applies to carbon dioxide and other climate-destabilizing pollutants. Contrary to Pruitt's comments, the courts have consistently found that Congress has directly "spoken" to the issue of climate change by vesting EPA with broad responsibility and tools to address this and other emerging threats to human health and welfare.  And EPA has, in fact, put these tools into practice over the last few years by establishing common-sense protections that are reducing pollution, protecting public health, and strengthening our economy – including fuel efficiency and emission standards for cars and trucks, emission standards for power plants, and standards for oil and gas facilities.
In Massachusetts v. EPA, decided a decade ago, the Supreme Court found "without a doubt" that EPA is authorized to regulate carbon dioxide and other climate pollutants under the Clean Air Act:
Because greenhouse gases fit well within the Clean Air Act's capacious definition of 'air pollutant,' we hold that EPA has the statutory authority to regulate the emission of such gases from new motor vehicles. — Massachusetts v. EPA, 2007
The Supreme Court then ordered EPA to make a science-based determination as to whether carbon dioxide and other climate pollutants endanger public health and welfare. In 2009 – after an exhaustive review of the scientific literature and over 380,000 public comments – EPA released its nearly 1,000-page finding that climate pollutants posed such a danger.
The U.S. Court of Appeals for the D.C. Circuit unanimously upheld this finding against a barrage of legal attacks by polluters and their allies (including a lawsuit by Scott Pruitt, who was then Attorney General of Oklahoma). The Supreme Court allowed that decision to stand without further review.
Two years after EPA made its determination, the Supreme Court unanimously decided in American Electric Power v. Connecticut that section 111(d) of the Clean Air Act – the provision that EPA relied upon in issuing the Clean Power Plan – clearly authorizes EPA to regulate emissions from existing power plants:
[Massachusetts v. EPA] made plain that emissions of carbon dioxide qualify as air pollution subject to regulation under the Act … And we think it equally plain that the [Clean Air] Act 'speaks directly' to emissions of carbon dioxide from the defendants' plants. – American Electric Power v. Connecticut (2011)
And in Utility Air Regulatory Group v. EPA in 2014 the Supreme Court once again affirmed EPA's responsibility to address climate pollution by finding that the Clean Air Act requires new and modified industrial facilities to adopt limits on climate pollution. Notably, at the oral arguments in both American Electric Power v. Connecticut and Utility Air Regulatory Group v. EPA, attorneys for some of the same coal-based power companies that now oppose the Clean Power Plan recognized EPA's authority to regulate climate pollution from power plants.
As George W. Bush's former EPA Administrator, Christine Todd Whitman, said in a recent interview:
I think, as a matter of law, that carbon is a pollutant has been settled. – (Climatewire, The Clean Power Plan is gone — and there's no 'replace' – March 9, 2017)
Notably, Scott Pruitt told the Senate under oath that he would abide by this framework. He specifically said that Massachusetts v. EPA and the Endangerment Finding are the "law of the land" and that "the endangerment finding is there and needs to be enforced and respected." Pruitt ought to keep that testimony in mind should he try to attack the bedrock legal principles requiring EPA to protect the public from harmful climate pollution.
The Facts Are Clear
There is scientific consensus that human emissions of carbon dioxide and other climate pollutants are driving dangerous climate change. And under our nation's clean air laws, EPA is required to protect Americans from this pollution – a responsibility that Pruitt's predecessors have carried out by taking common-sense, cost-effective steps to reduce pollution from power plants, cars and trucks, oil and gas facilities, and other sources.
It's outrageous and unacceptable that the principal federal official charged with carrying out this solemn responsibility is relying on "alternative facts" peddled by climate deniers to shirk his responsibility under the law.