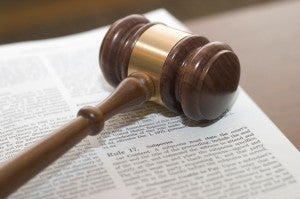 Since it was enacted in 1970, the Clean Air Act has protected public health and dramatically reduced air pollution at the same time as the economy has grown by leaps and bounds.
Many of the major Environmental Protection Agency (EPA) actions that have been most vital to this progress were subject to hard-fought — and largely unsuccessful — legal challenges.
The Clean Power Plan, which establishes the nation's first limits on carbon pollution from fossil fuel-fired power plants, is no exception. Dozens of lawsuits challenging the Clean Power Plan have been filed since the rule was published in the Federal Register – and a large coalition of states and municipalities, public health and environmental organizations, leading power companies, and clean energy providers have moved to defend the Clean Power Plan against these challenges.
Fortunately, EPA has a long history of successfully defending its rules against legal attacks – and the Clean Power Plan is on similarly strong legal footing.
Leading law enforcement officials, former EPA officials from Administrations of both parties – including the Administrator and the General Counsel in President George H.W. Bush's Administration — and prominent legal scholars have concluded that the Clean Power Plan is firmly within EPA's long-standing authority under the Clean Air Act.
Statements on the Final Clean Power Plan:
The EPA's Clean Power Plan is a critical step forward in responding to the threat of climate change. The rule is firmly grounded in science and the law. The rule incorporates successful strategies New York and other states have used to cut climate change pollution from power plants while maintaining electricity reliability, holding the line on utility bills, and growing our economies. We are committed to aggressively defending the Clean Power Plan to ensure progress is made in confronting climate change. — Attorneys General of New York, California, Connecticut , Delaware, Hawaii, Illinois, Iowa, Maine, Maryland, Minnesota, New Hampshire, New Mexico, Oregon, Rhode             Island, Vermont, Washington, Massachusetts, Virginia, and the District of Columbia; attorneys for the cities of Boulder, Chicago, New York, Philadelphia, and South Miami; and the attorney for Broward County, Florida, A.G. Schneiderman Leads Coalition of 25 States, Cities and Counties in Defense of EPA's Clean Power Plan, November 4, 2015
[The Clean Power Plan] is exactly what cooperative federalism looks like…It is the EPA recognizing the states' leadership, giving states the opportunity to employ and use strategies that … are working. — Maura Healey, Attorney General of Massachusetts, Attorneys General Explain Why 18 States are Defending EPA's Clean Power Plan, SNL, November 4, 2015
The country needs to reduce CO2 from existing power plants which generate 40% of America's CO2. The rule is needed, and the courts we hope will recognize that it is on the right side of history. — William K. Reilly, former EPA Administrator under President George H.W. Bush, and William D. Ruckelshaus, former EPA administrator under Presidents Nixon and Reagan, Former EPA Administrators Reilly and Ruckelshaus Issues Statement Regarding the EPA's Clean Power Plan, October 23, 2015
North Carolina's Clean Smokestacks Act, our renewable energy standard and other utilities, environmentalists, businesses and consumer advocates. Our state is in a great position to bring these and other stakeholders together once again to work with the EPA to devise our own plan to protect North Carolina's air and promote economic growth… I encourage the [North Carolina General Assembly] to avoid the path of litigation and instead work on a cooperative effort we can all be proud of. — Roy Cooper, Attorney General of North Carolina, Letter to leaders of the North Carolina General Assembly, Aug. 7, 2015
Opponents of the Clean Power Plan have already sued twice before to strike down this rule, only to have their challenges thrown out as premature. This time, judges will hear their arguments, but the arguments hold little legal merit. — Prof. Richard Revesz, New York University School of Law, and Denise Grab, Senior Attorney at the Institute for Policy Integrity at New York University School of Law, Noise Trumps Logic in Clean Power Plan Lawsuits, The Hill, October 27, 2015
[T]he government is on solid legal footing to defend the Clean Power Plan. — Profs. Jody Freeman and Richard J. Lazarus, Harvard Law School, The Biggest Risk to Obama's Climate Plan May Be Politics, Not the Courts, The Guardian, August 5, 2015
In many of the air pollution programs, EPA is directed to consider some combination of the cost of compliance and the practicability of the means of compliance when setting standards…The [New Source Performance Standards and Clean Power Plan] fit well within these statutory parameters: they bring about net economic benefits, they promote cleaner air, and they can be achieved within the existing landscape of how electricity is generated and transmitted. — Prof. Emily Hammond, George Washington University Law School, Testimony before the Energy and Commerce Committee, U.S. House of Representatives, October 22, 2015
[T]he EPA stands an excellent chance of prevailing in this epic showdown. And for the good of the planet and the welfare of future generations, one can only hope it will. — Prof. Patrick Parenteau, Vermont Law School, The Clean Power Plan Will Survive: Part 2, Law360, September 29, 2015
Many experts have also concluded that requests for courts to block (or "stay") the Clean Power Plan during the period of litigation are likely to fail.
Statements Refuting the Need for a Stay of the Clean Power Plan:
I think the deadlines [in the Clean Power Plan] are sufficiently far in the future that there's no need for a stay here, the court is certainly going to be able to decide this case before the deadlines. — Robert Percival, Robert F. Stanton Professor of Law and Director, Environmental Law Program, University of Maryland, Francis King Carey School of Law, EPA, Clean Power Plan Foes Gird For Court Fight, Law360, August 3, 2015
[T]he EPA's rule includes generous compliance deadlines . . . Challengers will be hard-pressed to persuade anyone they merit a stay. — Profs. Jody Freeman and Richard J. Lazarus, Harvard Law School, The Biggest Risk to Obama's Climate Plan May Be Politics, Not the Courts, The Guardian, August 5, 2015
Experts have remarked on the Clean Power Plan's bedrock legal authority throughout its creation – from when it was first proposed.
Statements on the Proposed Clean Power Plan:
The EPA has authority under the 1990 Clean Air Act, an authority affirmed by the U.S. Supreme Court, to set these public health protections against carbon pollution. — Carol M. Browner, former EPA Administrator under President Bill Clinton, and Alex Laskey, With New Power Plant Rules, Energy Efficiency Checks All the Boxes, The Hill, June 2, 2014
Critics of the [Clean Power Plan] say that President Obama is making an end run around Congress, stretching the law to achieve by executive action what he could not accomplish through the legislative branch. This is flat wrong. More than four decades ago, Congress expressed its clear desire to regulate pollution from power plants, in the form of the Clean Air Act. I know, because I worked on the legislation, including the key part of the act—Section 111—that the Obama administration is using to justify its move. — Leon Billings, former Chief of Staff to Sen. Edmund Muskie and staff director of the Senate Environment Subcommittee during the drafting of the Clean Air Act, The Obscure 1970 Compromise That Made Obama's Climate Rules Possible, Politico, June 2, 2014
Limiting Greenhouse Gas emissions from existing power plants is the next logical step after the Supreme Court and other courts have upheld EPA's authority and obligation to address this issue. A system-wide approach provides needed flexibility and reduces costs, as well as encouraging investment in lower-emitting generation. EPA has wisely left the states a lot of discretion rather than mandating specific measures as some had wanted. — E. Donald Elliott, EPA General Counsel under President George H.W. Bush, Obama's Section 111d Plan Has Support From George H.W. Bush's EPA General Counsel, Utility Executives, Legal Planet, June 1, 2014
[I]t is important to be clear here: the President is required to issue the rules, required by law and by the interpretation of the law by the highest Court in the land. — Prof. Ann Carlson, UCLA School of Law, Obama Has To Issue Climate Change Rules — The Law Says So, Talking Points Memo, May 30, 2014