This Thursday, April 16, a three-judge panel of the United States Court of Appeals for the D.C. Circuit will hear oral argument in three related cases — West Virginia v. EPA (No. 14-1146) and In re Murray Energy Corporation (No. 14-1112, 14-1151) — involving challenges to EPA's proposed Clean Power Plan, which will establish the nation's first limits on carbon pollution from existing fossil fuel-fired power plants.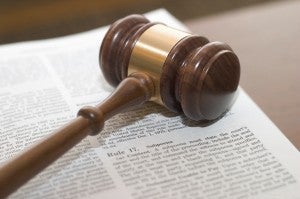 EDF is a party to the cases, and will be in court on Thursday.
These cases have attracted media attention in large part because these are the first legal challenges to a high-profile national rulemaking that will establish critical public health protections for the nation's largest source of greenhouse gases.
But these cases are also drawing notice because they involve highly unorthodox attempts to stop an ongoing rulemaking process. EPA is still considering more than four million public comments received between June and December 2014 on its proposed standards, and the Agency is not expected to issue a final rule until this summer.
From a legal perspective, the petitioners' case is fatally flawed on both procedural and substantive grounds.
Turning first to the procedural issues:
The timing of these legal challenges blatantly disregards the most basic principles of federal administrative law.
Although the three petitions before the D.C. Circuit have different procedural postures, all of them seek to block or overturn EPA's proposed carbon pollution standards. But under federal administrative law, standards developed by agencies such as EPA must go through a transparent and participatory process in which proposed standards are published, the public has an opportunity to comment on those standards, and agencies then issue final standards that respond to those comments. Both the Clean Air Act and the Administrative Procedure Act clearly provide that legal challenges can only be filed after this process is complete, and the agency has taken final action.
This long-standing rule against premature legal challenges serves a number of compelling purposes:
It prevents parties from doing an "end run" around the public comment process.
It gives administrative agencies the opportunity to ensure that final rules are firmly grounded in law and fact.
It ensures that reviewing courts have before them the agency's full and definitive decisions and analyses.
It protects courts and agencies from wasting valuable time litigating proposals that may change as a result of public comments.
Those purposes clearly apply here. EPA is months away from taking final action on the Clean Power Plan — and is still weighing millions of public comments filed on almost every aspect of the proposed rule, including the same legal issues raised by the D.C. Circuit petitioners (who have simultaneously filed voluminous comments with EPA making the very arguments they are making in court).
The petitioners attempt to short-circuit this careful, deliberative rulemaking process is radical and would – if successful – open the door to endless litigation over agency proposals. Petitioners have pointed to no case in which the D.C. Circuit or any other federal court has ever entertained such an anticipatory challenge to an administrative rulemaking. Indeed, in the last two years, the federal courts have twice dismissed similar lawsuits that were filed against EPA's proposed carbon pollution standards for new power plants — Las Brisas Energy Center LLC v. EPA, 12-1248 (D.C. Cir. Dec. 13, 2012) and Nebraska v. EPA, No. 4:14-CV-3006 (D. Neb. Oct. 6, 2014). On procedural grounds alone, the petitioners' case should similarly be dismissed.
The petitioners' substantive claim — that EPA is prohibited from regulating carbon dioxide from the power sector under section 111(d) of the Clean Air Act — is equally unfounded.
Section 111(d) of the Clean Air Act requires EPA to regulate harmful pollution from existing sources, where that pollution is not regulated under other provisions of the Clean Air Act relating to national ambient air quality standards (sections 108-110) and hazardous air pollutants (section 112). For more than forty years, section 111(d) has been understood to serve a vital gap-filling role in the Clean Air Act – ensuring the protection of human health and welfare from harmful air pollution that is not addressed under other key Clean Air Act programs.
Because carbon dioxide from the power sector is not regulated under section 108 or 112, EPA has logically proposed that it must be regulated under section 111(d). This conclusion not only follows from a long-standing interpretation of section 111(d), it also is consistent with the Supreme Court's 2011 decision in American Electric Power v. Connecticut – which stated that section 111(d) "speaks directly" to the problem of carbon pollution from existing power plants, and held that EPA's authority to regulate carbon pollution under section 111(d) displaces federal common law.
Indeed, attorneys for some of the nation's largest power companies specifically supported this interpretation at oral argument before the Supreme Court, and urged the "comprehensive" coverage of the Clean Air Act, including section 111(d)'s applicability to carbon dioxide emissions from existing power plants, as a reason why federal courts should not recognize a non-statutory remedy for power plant carbon pollution under the federal common law.
The petitioners nonetheless contend that EPA is categorically forbidden from regulating carbon dioxide from the power sector under section 111(d) because EPA has already issued standards for different pollutants (mercury, other toxic metals, and acid gases) from the power sector under a different section of the Clean Air Act.
As EPA explained in its brief in West Virginia, this theory amounts to a "pick your poison" approach to the Clean Air Act – arbitrarily limiting EPA to regulating either pollutants like mercury under section 112 or pollutants like carbon dioxide under section 111(d) for any given source, but not both.
Such a result would be completely out of step with the Clean Air Act, which consistently recognizes that different air pollutants pose different risks to the public, so that controlling one pollutant from a source does not eliminate the need to control other pollutants. The petitioners' theory would radically alter the structure of the Clean Air Act, transforming what is now a seamless regulatory framework into one with potential gaping loopholes.
Neither the text nor the structure and history of the Clean Air Act support these claims. The petitioners' theory rests entirely on a strained interpretation of a technical amendment to section 111(d) that the House of Representatives passed as part of the 1990 Clean Air Act amendments. But as EPA and other parties describe in more detail in their briefs to the DC Circuit, the text of the House amendment has multiple interpretations – and is most reasonably read to support the traditional "gap-filling" role of section 111(d) and EPA's authority to regulate carbon dioxide from the power sector.
Moreover, the petitioners call on the court to disregard a contemporaneous Senate amendment to section 111(d) that — as even they admit — unambiguously preserves EPA's authority to regulate carbon pollution.
The Senate amendment, like its House counterpart, was passed by both houses of Congress and signed into law by the President. It is the law of the land and cannot simply be read out of the Clean Air Act.
The petitioners' theory also represents bad statutory interpretation because it would dramatically change the structure of the Clean Air Act in a way that Congress could never have intended – making it difficult or even impossible for EPA to protect the public from harmful pollutants from the dozens of industrial source categories whose emissions of hazardous air pollutants are regulated under section 112. In all of the extensive debate, committee reports, and other legislative history that led up to the enactment of the 1990 Clean Air Act amendments, there is not a shred of evidence that Congress intended to create loopholes in section 111(d) as the petitioners claim.
Faced with this reality, the petitioners insist – without any supporting evidence — that Congress wanted to avoid "double regulation" of source categories under sections 111(d) and 112. But it is not "double regulation" for EPA to regulate different health-harming pollutants from the same source category under different provisions of the Clean Air Act. In fact, the Clean Air Act has always permitted and even required such regulation. Many facilities in the power sector, for example, are currently regulated under multiple Clean Air Act programs addressing different air pollution problems that are associated with a variety of adverse health effects.
Further, the 1990 amendments include a provision stating that standards under section 112 must not be "interpreted, construed or applied to diminish or replace" more stringent requirements under section 111. This is a strong indication that Congress intended for section 112 to work seamlessly with, not displace, section 111(d).
EPA's proposed interpretation of section 111(d) also has a long and bipartisan history – further supporting the reasonableness of the agency's view and underscoring the bizarre and opportunistic nature of the petitioners' theories.
As documented in a compelling brief filed by NYU's Institute for Policy Integrity, EPA has adopted the view that section 111(d) applies to any pollutant not regulated under section 112 or section 108 in multiple rulemakings since 1990 — not just in the Obama Administration, but also the George W. Bush Administration, the Clinton Administration, and the Administration of George H.W. Bush, who actually signed the 1990 amendments.
Ultimately, the petitioner's flimsy substantive claims only underscore the wisdom of the procedural bar against premature challenges to agency proposed rules.
EPA undoubtedly possesses the authority to limit carbon pollution from existing power plants under section 111(d) of the Clean Air Act. That's good news for the families and communities that are afflicted by mercury and carbon pollution from fossil fuel power plants — the nation's single largest source of both health-harming contaminants.
Congress did not intend for our children to have to "pick their poisons," but instead created a seamless framework – which Republican and Democratic administrations alike have long carried out — to safeguard our health and our children's health from all harmful air pollution.