The CEOs of 14 major food and beverage companies have now signed a joint letter asking the 190 governments attending next month's United Nations climate change negotiations in Paris to act decisively in order to protect global food supplies. In the letter, sponsored by sustainability advocate Ceres, these businesses pledged to accelerate action on climate change and asked U.S. and world leaders to do the same.
Other stakeholders are also pushing for crop production and food security to be a major topic of discussion at the upcoming negotiations, but agriculture isn't in the draft text for a new climate agreement. Most of the focus will be on emissions from deforestation and land use changes.
These are pressing and important issues that are very closely tied to agriculture – but they don't capture the emissions and environmental impacts that result from food production. This is problematic, since there's a lot at stake for farmers. Reports on how climate change will impact the global food supply and crops will suffer from higher temperatures are everywhere.
That's why we need investment, research, and tangible actions to help farmers and protect our food supply – and we need it now. Fortunately, the private sector can help – their pledges are a great step in the right direction, but it's the demonstrations of agricultural innovation from within that can spark real change, at scale.
Why food production isn't on the agenda in Paris
Food production involves millions of growers and ranchers farming in various regions and climates across the globe. That's why, when compared with other industries such as energy, agriculture isn't heavily regulated. There are too many factors and too many stakeholders. There is also no clear mechanism on how to implement agricultural changes across the globe – that's part of the reason why crop production hasn't historically been part of international climate talks.
But voluntary efforts have been ramping up at an unprecedented pace.
Innovation from within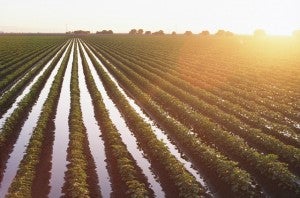 As General Mills' chief sustainability officer noted in a recent announcement, climate change plays a significant role in the long-term viability of their business – so they're investing in watershed restoration and sustainable sourcing projects. Sustainable food production just makes good business sense – and reduces the risk of supply chain disruptions. Other encouraging developments:
31 major food and agriculture companies joined Field to Market, an agricultural supply chain alliance supporting continuous improvements in farm sustainability practices while protecting yields.
Walmart's commitment to fertilizer efficiency has inspired commitments from 15 leading food and beverage companies that are now on track to optimize fertilizer use on 23 million acres of U.S. farmland by 2020.
United Suppliers, a cooperative of agricultural retailers whose customers span 45 million acres, worked with EDF to launch the SUSTAIN™ platform that improves fertilizer efficiency and soil health – that platform is part of the sustainable sourcing efforts of General Mills, Campbell's Soup, and Unilever, and soon of Kellogg's and Smithfield Foods.
We can't wait for global action to start making real change in the agricultural sector. Luckily, we don't have to.
Related Content
How a 10-year old Walmart speech fostered sustainable food production
Strong market signal for sustainable grain