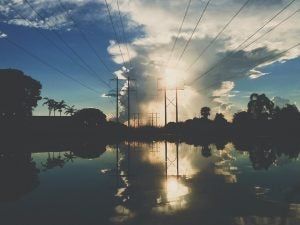 It's time to rely on water-smart power
Energy Secretary Rick Perry is trying to prop up coal and nuclear companies under the guise of enhanced "resiliency." The Department of Energy's (DOE) proposal does not define resiliency, nor does it even make clear what resiliency means in the context of the electric grid.
Resiliency in the energy sector generally, however, depends on water. The majority of the electricity that powers our world runs on century-old technology, guzzling down our most precious resource: water. Depending on the type of technology, generating just one megawatt-hour of electricity could use anywhere from 500 to 50,000 gallons. Solar and wind, on the other hand, use negligible amounts of water, and energy efficiency uses none.
Yet neither the DOE's proposal nor its recent study on grid reliability touches on climate and water. Specifically, there is no mention of how climate change affects water availability or what that means for electric reliability. If Secretary Perry is really concerned about resiliency, water should be a key focus. And as a former governor from a drought-stricken state, he should know better. Read More »