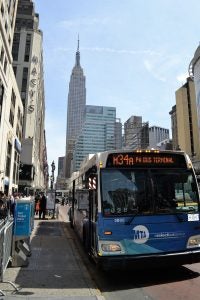 By Rory Christian, New York Director, Clean Energy, Environmental Defense Fund, and Adriana Espinoza, New York City Program Director, New York League of Conservation Voters
Tons of ink has been spilled on the woes of the New York City subway system and the congestion pricing solution that would help fund its long-overdue improvements.
But congestion pricing can be much more than just a subway-fixing fund. It could also enable the electrification of the city's entire bus fleet – a move that would save fuel costs, reduce the city's carbon emissions and improve air quality for millions of New Yorkers that live, work and learn along the city's maze of bus routes.