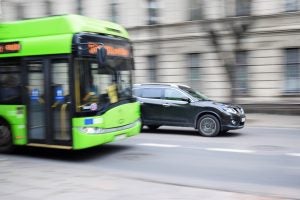 The Metropolitan Transportation Authority (MTA) in New York City, operator of the largest bus fleet in the United States, recently announced a plan to adopt a zero-emissions electric vehicle (EV) fleet by 2040. This news is a welcome breath of fresh air. Transitioning away from diesel-fueled buses will improve the quality of life for all New Yorkers in numerous ways. But the question remains: Why will it take more than 20 years?
The deadline is likely a result of the MTA's need to determine how best to integrate EVs into their current operations while maintaining, and improving, quality of service. There are a myriad of logistical and operational aspects to consider before making a full transition. These considerations will be identified during the agency's bus pilot, scheduled to start with 10 EV buses this year and planning to expand to 60 buses within the next three years.  
The benefits of electrification
Cars and light trucks account for about 45 percent of all U.S. oil consumption, and total on-road vehicles account for 22 percent of U.S. greenhouse gas emissions. As one of the largest cities in the U.S., New York City's bus fleet transformation to electric vehicles will have a major impact. Powered by electricity, a cleaner energy source when compared to either gasoline or diesel, EVs pollute less.  As New York's electric grid gets cleaner through renewable energy, emissions will further decline.
[Tweet "New York breathes easier as plans emerge for electrification, starting with new city buses"]
Air quality problems due to particulate matter and other emissions from diesel engines have long plagued the communities surrounding MTA bus depots and high traffic areas. Vehicle emissions contribute to increased asthma rates, and environmental justice organizations have long raised the concerns of affected communities. Zero-emissions buses can help improve the quality of life, alleviate the thousands of annual asthma and heart related hospitalizations attributed to poor air quality, and help New Yorkers breathe easier.
Charging infrastructure is key
One important consideration is EV charging infrastructure. Once the MTA's fleet of buses is completely transformed, it could operate more than 5,700 EVs. Charging that many buses has the potential to strain the grid, putting the capabilities of the MTA and local utilities to the test. Ensuring that all of these vehicles are promptly charged and ready to go will require very close coordination with Con Edison and National Grid to minimize potentially adverse impacts to the electric system while trying to maintain the quality of service.
Once the MTA's fleet of buses is completely transformed, it could operate more than 5,700 EVs. 
The possible replacements for the typical 40-foot buses used throughout New York City have sufficient range to handle any of the 325 routes in the five boroughs. Charging all the batteries on an electric bus from zero to full capacity with a regular 120v outlet would be the equivalent of having an elephant drink out of a straw. It's unrealistic and impractical – a full charge could take weeks. Higher powered charging solutions, similar to Tesla's Supercharger, will be needed to ensure buses can quickly charge and resume service at the end of a route. For most routes, a 5 to 10-minute charge would be sufficient, and the MTA has indicated a desire to explore on-route charging as part of the initial pilot.
Figuring all of this out while performing business as usual is no easy task. Upgrading existing bus depots to charge new EVs integrated into the fleet will take time. The MTA's 28 depots scattered throughout the city may seem expansive, but when packed with buses, there is little room to add anything new, much less battery chargers and related equipment. With both space and funding in limited supply, building new depots to accommodate a new EV fleet is unlikely.  The MTA will need to jockey for space between existing diesel buses and electric buses.
A cost-effective, clean future
Electric vehicles are also much cheaper to operate, not only because electricity costs less than diesel and fuel on a per-mile basis, but also because they cost less to maintain. With maintenance and operations making up 5 percent of the MTA's overall budget, this any reduction in costs will be welcome news to New Yorkers and may play a role in offsetting fare hikes. 
Even with their high upfront costs of $300,000, electric buses cost less over the life of a vehicle.
Most importantly, when factoring in the health and wellness benefits of EVs, there is no competition. Even with their high upfront costs of $300,000, electric buses cost less over the life of a vehicle when taking into account lower fuel costs, maintenance requirements, and environmental and health benefits.
Though the pace may not be fast enough for some, addressing these considerations will take time to figure out. An emissions-free future is something we can all can get behind.