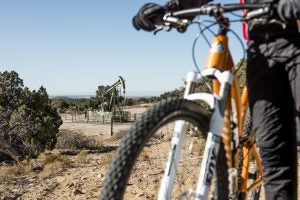 Over the past months more than 400,000 Americans weighed in on a proposal by Secretary of the Interior Ryan Zinke to gut the Bureau of Land Management (BLM) Methane and Natural Gas Waste Prevention Rule. And more than 98 percent of the comments received urged BLM to keep the strong rule in place to force oil and gas operators to crack down on waste and pollution when profiting from the public's natural resources. Now that's a landslide!
Here are just some of the reasons for the huge outpouring of opposition:
The fact that the current BLM rule enjoys so much support from Westerners and other Americans should come as no surprise. When oil and gas companies work to make their operations on federal and tribal lands more efficient and keep more natural gas in the sales lines instead of the atmosphere, everybody wins. The companies have more gas to sell, the communities that rely on royalties from the gas get more revenue, and the planet has to deal with less climate-forcing methane and fewer pollutants in the air.
The Obama administration spent years developing a reasonable, cost-effective rule modeled after successful state models, like the rule adopted in Colorado in 2014. After eight field hearings, mainly in the West, and hundreds of thousands of comments, the BLM rule was adopted in late 2016.
But the Trump administration and Secretary Zinke have wasted little time trying to undo the popular rule.
[Tweet "American people speak loud and clear on Zinke's proposal to gut the BLM methane rule"]
The Trump administration's allies in the House of Representatives voted to rescind the rule in an unusual move under the Congressional Review Act, but that effort was stymied when the Senate wisely rejected the repeal effort almost one year ago. And now, Secretary Zinke is proposing to use the regulatory process to gut the rule, short-change American taxpayers and allow operators to spew methane pollution with virtual impunity. And he wants to do it all without even a single hearing.
Rolling back the 2016 rule as Zinke proposes will come at a cost.  Zinke's own department analyses found this rule will result in $1 billion more in wasted American energy and pollution costs.
Tribes, as well as many other Western communities, depend on energy revenue from public lands to fund critical infrastructure such as schools, health clinics, roads and more. More wasted energy from these operations will tighten already-shrinking budgets.
These communities are also the ones most directly impacted by oil and gas operations. When companies shirk their responsibilities to operate efficiently and minimize air pollution, it is the children in these communities that suffer. Rolling back the 2016 protections will result in more air pollution and more health problems.
Westerners Speak Out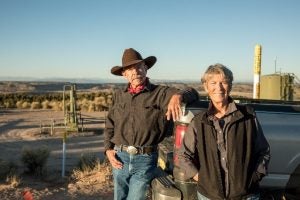 The voices raised against this rule include tribal leaders, ranchers, small business owners, and concerned parents. Don Schreiber, a rancher from New Mexico, wants the companies that own the over 100 natural gas wells surrounding his ranch to take common sense steps to reduce pollution.
Scott Newton, who owns a cycling business in Utah, also spoke out, saying he worries about the impact weakening these rules will have on the outdoor recreation economy.
Melissa Nootz, a mom from Montana, spoke up as well, saying that Montana parents highly value protecting our public lands, clean air, and our most precious resource — our children. She says it's time for Secretary Zinke to stand with Montana values instead of protecting special interest groups.
Other important voices, including Latino leaders, 500 faith leaders, over 350 business leaders, health experts, law professors, an industry association of companies that help reduce these emissions, 100+ members of Congress, local officials from the West, and taxpayer advocates, also spoke out in defense of the 2016 rule.
Ignoring the concerns of the hundreds of thousands of people who have stood up for common-sense regulation of the oil and gas industry will come at a price. There will be a political cost to the administration and their allies that seek to roll back these protections. And there will be a cost to the oil and gas industry as well, bringing into question the legitimacy of their social license to operate and their right to profit off of the natural resources that belong to the American people.