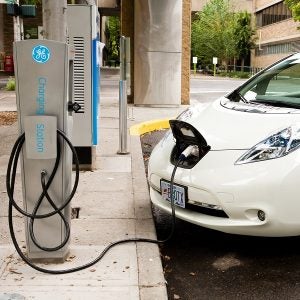 By Jason Mathers, supply chain director at EDF, Corporate Partnerships
Electric vehicles are poised to take off. We've just closed a year of record demand and investment. It's no longer a question of whether electric vehicles – or EVs – will arrive, it's how: How big of a role will EVs play, how soon and how clean will they be?
Popularizing EVs will depend on tackling key challenges. We're seeing progress on several fronts. 
1. Bringing down the cost of batteries
Battery packs account for a third of the upfront cost of full EVs. Driving these costs down expands the number of EV models that are price-competitive with conventional vehicles. There is tremendous progress here.
The price of lithium ion batteries dropped 73 percent between 2010 and 2016, according to research firm Bloomberg New Energy Finance. Numerous analyses point to battery costs of $100 per kilowatt hour (kWh) as the mark where full EVs become as affordable as traditional cars. General Motors' battery costs are $145 per kWh, and the company expects that number to drop under $100 per kWh by 2021.
[Tweet "Are electric vehicles finally taking off? Here's what you need to know."]
2. Ramping up automaker investment for new, improved models
Automakers are bringing electric cars and trucks to market with ever-better batteries and driving range. Ford Motor Co.'s plan to double its investments in EVs to $11 billion is just the latest example.
Globally, automakers have announced investments of more than $90 billion in EVs. Automakers still need to reveal more about their plans, detailing specific models, timing of release and availability in various markets.
3. Making charging stations more widely available
People are more likely to invest in plug-in cars once they feel confident they'll always find a place to recharge their batteries away from home, and fast. In fact, the availability of public charging infrastructure is a leading factor in EV adoption.
While the vast majority of charging occurs at home, public charging stations enable EV drivers to take extended trips. They also facilitate EV ownership by households reliant on on-street parking.
To get the most out of EVs, we need more renewable energy on the electric grid and drivers who charge vehicles when the grid is its cleanest. States play a vital role.
A recent assessment found the need for 600,000 public "level 2" (240 volt) plugs and 27,500 fast-charging plugs nationwide by 2030. By mid-2017, there were 36,000 public level 2 plugs and 3,300 fast-charging plugs in the U.S. So, there is a long way to go on this front.
Growth will continue over the next year as states deploy funds from the Volkswagen diesel emissions settlement to support EV charging infrastructure. Beyond the settlement, California recently approved a utility effort to expand access to charging in the light, medium and heavy-duty sectors, with more long-term, broader projects pending. More states should follow California's lead.
The time it takes to recharge will need to be improved, too. Helpfully, efforts are underway to deploy a next generation of fast-charging stations capable of adding 250 miles in a 15-minute fuel stop.
4. Shifting to clean energy for charging
To get the most out of EVs, we need more renewable energy on the electric grid and drivers who charge vehicles when the grid is its cleanest. States play a vital role.
For example, New York's Reforming the Energy Vision aims to decentralize the electric grid, while aligning utility earnings with public policy needs and marketplace innovations. The program focuses on making it easier – and financially attractive – for customers to help improve the electric system by opting for EVs, rooftop solar and other energy investments.
By encouraging customers to charge EVs at times when renewable energy is readily available and affordable, New York is ensuring that EVs will benefit the grid and the environment.
5. Strengthening and extending emission standards
Well-designed emission standards are critical to scaling clean vehicle solutions, such as EVs. With the certainty of long-term standards in place, manufacturers invest. This dynamic can be seen across the globe, as policy measures from China to California are driving EV investments.
Unfortunately, we are at risk of impairing this critical tool in the U.S. At a time when we should be challenging ourselves to set a new round of protective standards, the Trump administration is reconsidering standards that were set long ago.
The automotive industry has been complicit in this effort, despite its previous embrace of the same standards. To avoid undercutting their own investments in the long-term success of EVs, it is critical that automakers work proactively to strengthen and extend vehicle emission standards.
We're at a crossroads
Over the next decade EVs can become a major part of our fleet with benefits for our health, economy and environment. We can create a future that drives down global oil demand and cuts nearly 2 billion tonsof climate pollution a year.
Technical innovation has opened up this path. We now must muster the conviction to take it.
This post originally appeared on our EDF Voices blog.