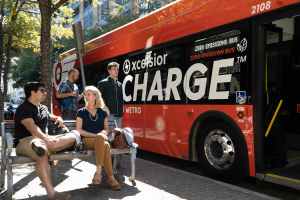 Many U.S. transit agencies, from New York to Los Angeles to Houston, are working to convert their bus fleets from diesel to electric. The number of electric transit buses currently on order or operating in the U.S. grew 112% from 2018 to 2021, according to CALSTART. Electric buses are cleaner, quieter and increasingly more cost-effective than traditional diesel-powered alternatives.
While many makes and models of electric buses are now available to address transit agencies' needs, charging is still a significant hurdle. Transit agencies are faced with the complexity of determining charging infrastructure needs while maintaining operations and reducing costs, which can be a maze of decisions and obstacles to overcome.
To uncover the emerging trends, barriers and best practices these agencies are implementing to meet their own electrification goals, EDF worked with Atlas Public Policy to interview 28 transit agencies in the process of electrifying their fleets, as well as utilities, engineering firms, charging manufacturers and thought leaders in transit charging. The results are highlighted in a new report out today entitled, Deploying Charging Infrastructure for Electric Transit Buses: Best practices and lessons learned from deployments to date.