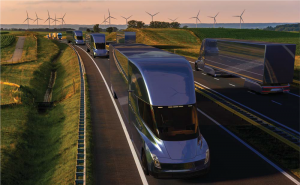 Critical funding for more zero-emission trucks in Texas is on the way. For the first time ever, a Texas Commission on Environmental Quality grant program that provides incentives to replace heavy-duty diesel vehicles will guarantee that at least half of the funding awarded will go to projects that include zero-emission medium- and heavy-duty trucks. The recently announced change will make this money available in the next round of grant funding for the Texas Clean Fleet Program, which will be open for applications soon.
Nitrogen oxide from diesel trucks contributes to climate change while increasing air pollution and harming the health of Texans. Our state is currently experiencing historic heat, which can be directly attributed to climate change. By replacing dirty diesel vehicles with clean alternatives, Texas is taking direct aim at climate and air pollution.
Environmental Defense Fund submitted comments directly to the agency requesting that at least 50% of funds available through the TCFP be set aside for zero-emission vehicles. Historically, a majority of the funds for the program's grant cycles could go to liquefied natural gas or compressed natural gas trucks. Leading fleets and companies also submitted similar requests for the ZEV set-aside to the agency – including Daimler Truck, Volvo, Forum Mobility, Navistar and CMA CGM.
TCEQ announces critical new funding commitment for zero-emission trucks
Click To Tweet
In addition to the funding set-aside, the agency provided clarity that they will make clear guidelines for waiver requests for third-party scrappage available for the funding process, a change that also comes following months of advocacy from EDF and our allies. A third-party scrappage process will allow fleets that don't have old enough trucks to qualify for the program – but are prepared to utilize incentives to help cover the costs of new ZEV trucks – to partner with a different entity that is ready to remove a diesel-powered vehicle from the road, thus fulfilling the replacement component of current "scrappage" guidelines.
The new commitment from TCEQ is an important step forward for Texas and comes not a moment too soon. Despite making up only about 4% of the vehicles on the road in Texas, medium- and heavy-duty diesel trucks are responsible for 90% of transportation-related nitrogen oxide emissions from diesel sources. This pollution is projected to grow, as demand for freight moved by trucks is on track to increase about 25% by 2030.
EDF is working with several state agencies to advance necessary infrastructure for ZEV trucks. In recent weeks, EDF has submitted comments to the Texas Department of Transportation and Public Utility Commission on the following topics:
ZEV charging infrastructure: EDF submitted comments to TxDOT regarding the state's draft National Electric Vehicle Infrastructure plan. Though current NEVI dollars are focused on light-duty electric vehicles, creating a statewide charging network for electric vehicles should take into strong consideration the charging infrastructure needs of heavy-duty vehicles, as well, and prioritize placing new infrastructure in environmental justice communities that are disproportionately impacted by nitrogen oxide and other polluting emissions from all diesel vehicles.
Grid reliability: EDF also submitted comments to the PUC regarding distributed energy resource planning. As the PUC and other agencies continue to reshape the Texas energy market, the improved implementation of DER capacity is a dramatically less expensive option than the state's current plan of purchasing billions in mostly dirty reserve power. Allowing more energy capture and storage throughout the state will also create improved grid reliability for the highway charging infrastructure needs across the state in the years to come.
EDF will continue working with each of these state agencies to advance ZEV truck infrastructure and investments in the months ahead, both through rulemaking opportunities and for the next legislative session, which is set to start in five months.