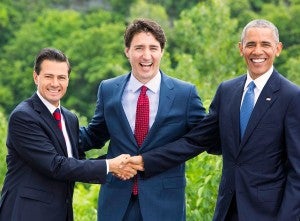 Mexican President Peña Nieto today formalized Mexico's plan to join the U.S. and Canada in making oil and gas methane reductions a national priority, marking yet another country taking leadership to address this extremely potent greenhouse gas. The three leaders agreed that each of their countries would develop rules to cut up to 45 percent of methane escaping from across the continent's oil and gas industries by 2025. It's a pledge that once fully realized would have the same 20-year climate effect as taking 85 million cars off the road. Featured among a package of broader energy and climate commitments, the common methane reduction goal is a centerpiece.
This announcement is a milestone for North America energy integration and cooperation. But, it's also an important moment for Mexico. The commitments Mexico is making both in-country and as part of the continental pact on methane, distinguishes Mexico as a clear world leader on energy and climate issues, along with the U.S. and Canada. By taking advantage of low-cost, oil and gas methane reductions, Mexico can make an immediate down payment on its climate goal – cuts can deliver about 10% of the greenhouse gas reductions Mexico pledged, and all at a cost savings. The key will be implementation and what steps Mexico takes next are critical. 
Mexico's commitment is especially encouraging given the changing landscape of the country's oil and gas industry. Recent historic changes opened up the industry to private investment for the first time since 1938. While state-owned oil and gas company Pemex has already set an example on methane by joining the Oil and Gas Methane Partnership, a voluntary UN-sponsored effort to improve transparency and accelerate best practices to reduce methane emissions, Mexico's actions today will ensure future private developments are defined by the same environmental excellence.
This announcement is also evidence of nations making good on its Paris commitments. The U.S., Canada and Mexico specifically highlighted oil and gas methane as a way to meet their respective climate goals and today's agreement shows forward momentum to implement the policies required that will deliver on their international targets.
Why Methane Matters
Responsible for about 25 percent of the warming we feel today, methane is a potent gas that packs 84 times the warming power of carbon dioxide over a 20-yr time span.
The oil and gas industry is the largest industrial source of methane emissions globally. Luckily, technologies exist today that can address the industry's methane problem at little to no cost. Analyses by ICF International have shown this to be true across all three North American countries, despite today's historically low gas prices, while in Mexico these reductions are the lowest cost of all.
The immediate climate impact of methane, coupled with readily-available, cost-effective solutions to address the problem from oil and gas, make curbing methane emissions across the supply chain an obvious target for action. No climate investment has a higher impact for such a low cost.
Signs of Momentum
As the largest combined producer of oil and gas, North America has a big role to play in establishing a road map that can jump start the methane cuts needed worldwide.
According to Rhodium Group, roughly 3.5 trillion cubic feet of methane escaped from the global oil and gas supply chain in 2012. That amount of methane, equal to about 3% of global natural gas production, has the same near-term climate impact as about 40% of annual global coal combustion. And the problem is projected to get worse. Without action, global oil and gas methane emissions can be expected to increase almost 20% by 2030, compared to a projected 10% increase in carbon dioxide from energy use.
But there is reason for hope. In the US, unprecedented federal rules aimed at limiting pollution from new oil and gas infrastructure nationwide were finalized in May, with a promise to go after existing sources. President Obama's pledge to cooperate with Mexico and Canada on a common methane target continent-wide reinforces the importance of the U.S. moving ahead on existing source rules. Canada also announced that it will propose its national methane rules next year to ensure Canada fulfills its part.
Investors totaling $3.6 trillion issued a letter calling for more action on oil and gas methane, in response to the US-Canada efforts.
Last month, Denmark, Finland, Iceland, Norway, and Sweden joined the U.S. in agreeing to develop a global oil and gas methane goal, where the North American methane pact will be an important contribution to that process.
Later this year, oil and gas producers involved in the Oil and Gas Methane Partnership will also issue a report outlining the actions they have taken and emissions they have avoided by participating in this international partnership. Taken as a whole, these actions show there has been tremendous improvement in the global response to reducing oil and gas methane, but there is more yet to do.
A Catalyst for Global Action
North America has been a catalyst for global climate action in the past, and it can be again. In 2009, the three countries proposed a joint amendment to the Montreal Protocol, which catalyzed global action to phase out hydrofluorocarbons (HFCs) – another dangerous greenhouse gas. Those efforts are on track for completion later this year.
If today's announcement sparked similar global commitments, the benefits would be significant. A global reduction of methane emissions by 45 percent would have the same climate impact over 20 years as closing one-third of the world's coal-fired power plants.
While a North American methane commitment gets at a sizable chunk of the problem, global action will be necessary to meet the ambitious goals laid out in Paris and truly turn the corner on warming. The U.S., Canada, and Mexico have shown amazing leadership today; now other countries must follow suit.
Image source: President of Mexico, official Flickr account