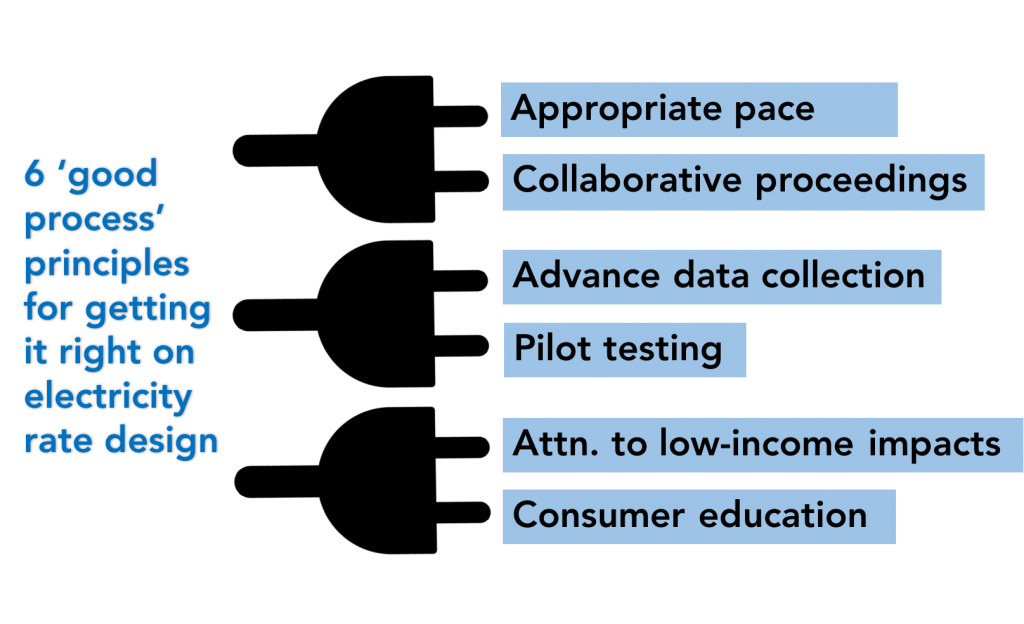 As a former state utility regulator, I know the difficulty of balancing competing interests in making decisions and communicating those decisions to constituents. Solutions deemed "fair" by some parties may have harsh or unintended consequences for others.
This challenge of balancing competing interests is playing out with the current debate on electricity rate design as the system struggles to deal with the impact of new, distributed forms of energy like rooftop solar. From Nevada and Arizona, to Kansas and New Hampshire, we've seen these debates leave the hearing rooms of public service commissions and enter the public arena. Increases to fixed charges, changes to net metering, demand charges, time-of-use rates, minimum bills, or a combination of these options, are just some of the policies that states have either implemented in response to this debate, or are currently considering.
But many questions remain about the best path forward: What design will adequately compensate utilities for their investments, support the need to upgrade the electric grid, and encourage new technologies and innovation, while being perceived and accepted as fair? To answer these and related questions, a "good" rate design process needs to be put in place – one built on transparency, fairness, accessibility, and accountability.
Getting to good rate design
Instead of the traditional confrontation in a contested rate case proceeding, we should look for opportunities to engage collaboratively in constructive, stakeholder processes that explore new ways of moving forward together, even if it takes a little longer. Rate design change can have unintended consequences if not done thoughtfully. For example, increasing fixed charges may support utility revenue stability but adversely impact customer costs, conservation, equity, and the ability for customers to control their energy bills. Collaborative solutions can lessen the strident public debate, dissention, and confusion arising from change.
[Tweet "What is good rate design, and how will we get there?"]
Solid data and transparent modeling that is credible and available to all parties should also be a tenet of good rate design. It should be gathered and used to evaluate the impact of proposed rate changes. This includes understanding how changes to electricity rates will impact goals set and paying particular attention to customers who are particularly vulnerable to change.
By following these best practices, regulators can anticipate whether or not to take additional action to mitigate the impact of rate changes. This approach can also help regulators evaluate whether testing is needed before going to scale, perhaps through pilot or demonstration projects. Finally, regulators can gauge when it is appropriate and necessary to implement the change and think about necessary education and outreach efforts to help customers better understand.
A collaborative path forward
As a former member and president of NARUC, I have great faith in its leadership and ability to guide the country's regulators through times of change.
Built on the principles outlined above, a large and diverse group of environmental, consumer, and technology advocates – of which I am a part – have come together to develop recommendations for getting to good rate design. We sent these principles in a letter last week to the National Association of Regulatory Utility Commissioners (NARUC) – an association made up of utility commissioners from across the U.S. By submitting this letter, our hope is twofold: NARUC will consider the recommendations when revising its rate design manual, but also use its power of convening, gathering information, and driving consensus to take some of the controversy out of rate changes. As a former member and president of NARUC, I have great faith in its leadership and ability to guide the country's regulators through times of change.
Regulators and advocates may not always see eye-to-eye. But the fact that organizations from 32 environmental, consumer, and clean technology perspectives worked closely together on this letter speaks volumes about the importance of these issues, and signals the inclusive, collaborative path forward needed to get good rate design done right. By working together, we can build a foundation that supports the goals of a clean, equitable energy future, while ensuring the electricity system our country worked so hard to build continues to be reliable, efficient, and profitable for all.