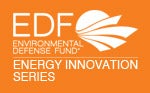 EDF's Energy Innovation Series highlights innovations across a broad range of energy categories, including smart grid and renewable energy technologies, energy efficiency financing and progressive utilities, to name a few. This Series helps illustrate that cost-effective, clean energy solutions are available now and imperative to lowering our dependence on fossil fuels.
Find more information on this featured innovation here.
Driving improvements in the built environment is extremely impactful because buildings emit more than a third of our country's greenhouse gases. Furthermore, according to IBM, roughly 30 percent of building energy usage is wasted. From location to location, however, these changes are sometimes hard to prove beforehand or demonstrate quantitatively after changes or investments are made. As the need to comprehensively tackle energy inefficiency has increased, so has technology's ability to identify and measure the impact that building upgrades (retrofits), operational shifts or basic behavior changes can make.
Companies like Lexington, Mass.-based FirstFuel Software (FirstFuel) are doing for energy information what Google has done for online search: using complex algorithms to help make simple, usable sense of the massive amounts of energy data being collected by smart meters and other energy management devices.  Needing only one-year of hourly meter data and an address, FirstFuel's Remote Building Analytics platform screens entire building portfolios for high-potential opportunities, conducts deep building audits and tracks energy savings – without ever going onsite or installing connected devices.
Using hundreds of proprietary algorithms and external weather and Geographic Information Systems (GIS) mapping technology, FirstFuel can provide detailed insight into each facility's energy use and lay out specific, actionable recommendations for improved efficiency.  "We call it a 'zero-touch' approach," said FirstFuel Software CEO Swapnil Shah. "It's a very simple and compelling value proposition for the customer.  No hardware and no on-site visits mean you can begin to achieve true scale." Read More »