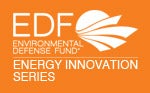 EDF's Energy Innovation Series highlights innovations across a broad range of energy categories, including smart grid and renewable energy technologies, energy efficiency financing and progressive utilities, to name a few. This Series helps illustrate that cost-effective, clean energy solutions are available now and imperative to lowering our dependence on fossil fuels.
Find more information on this featured innovation here. 
WaterFX can turn virtually any water source into clean, drinkable water. And all they need is a sunny day.
This is great news for drought-stricken states like California and Texas, where water is becoming an increasingly scarce resource. In Central California, for example, the drought has essentially cut off thousands of farmers this year; they have no water, and their land now lays fallow.
Part of what's draining this precious resource is our energy use. Taking into account the acquisition, treatment, and movement required to ensure water comes out the faucet when we turn it on, it is no surprise that water is among the country's greatest users of electricity. Read More »