By: Caroline Heilbrun, EDF+Biz intern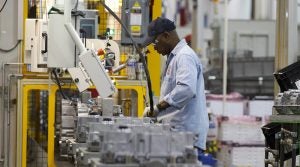 Have you ever thought about how much energy it takes to manufacture the products you use every day?
While our nation's refineries, factories, and plants produce some of the world's highest quality products, the energy at work in our industrial manufacturing facilities is extremely intensive. This is due, in large part, to the inefficiencies inherent in the manufacturing process. The sparks flying from giant robotic arms along the assembly line? That is heat lost to friction. Those harmful chemicals spewing from smokestacks? They represent unused inputs. At every step of the supply chain, there is opportunity to cut waste.
On Energy Efficiency Day, October 5, we should consider the myriad benefits of acting upon those opportunities. Efficiency cost savings for the manufacturer can translate into cost savings for the consumer, higher quality products, and healthier air for people who live and work nearby. Plus, less electricity consumption means less stress on the electric grid.