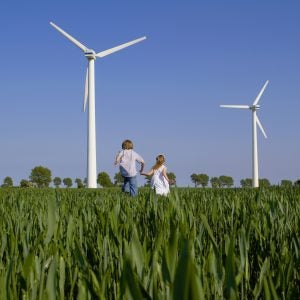 By Andrew Barbeau, senior clean energy consultant
For a breakdown of the bill's renewable energy details, see here.
Two years, three competing major energy reform bills, more than 300 diverse organizations and companies, and countless hours of negotiations have now come down to one important moment: Illinois' Future Energy Jobs Bill is signed into law today.
A clean energy economic development package of monumental size, the Future Energy Jobs Bill will create thousands of homegrown jobs, save billions of dollars in wasted energy, and secure Illinois' place at the forefront of the nation's clean energy economy.
In fact, Environmental Defense Fund's (EDF) analysis estimates Illinois will see an additional $12 billion to $15 billion in new private investment as a result of the new clean energy priorities in this bill. That's the greatest economic development package in Illinois in years, and likely will be the largest for the foreseeable future.
It's also the most significant climate bill in Illinois history. We estimate it will reduce harmful carbon dioxide emissions by more than 33 million metric tons annually in 2030. Combined with the ongoing impact of market changes on the fossil fuel industry, this means Illinois will reduce its carbon emissions from the power sector by more than 50 percent from 2012 levels by 2030.
Oh, and did I mention customers' bills will go down? Based on extensive analysis from the Illinois Commerce Commission and Illinois' consumer watchdog Citizens Utility Board, the Future Energy Jobs Bill's energy efficiency initiatives will lower customers' electric bills.
At a time when President-elect Trump is threatening to roll back federal environmental protections, state victories like the Future Energy Jobs Bill are more critical than ever.
That's the ultimate win, win, win.
At a time when President-elect Trump is threatening to roll back federal environmental protections, state victories like the Future Energy Jobs Bill are more critical than ever. And, with strong bipartisan support in the Illinois General Assembly and being signed into law by a Republican governor, the deal is a clear signal that Illinois is ready to reap clean energy's economic rewards – even if federal leaders refuse to join us in this endeavor. Read More »