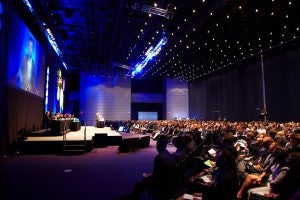 More than 1,000 people gathered in Nashville, TN this week for the summer meeting of the National Association of Regulatory Utility Commissioners (NARUC). The meeting is one of three yearly where thought leaders gather to socialize the knottiest issues of the day in regulated utility industries, including telecommunications, electricity, natural gas, and water. Two electricity debates dominated the stage and the halls during this summer's meeting: nuclear power and rate design.
NARUC meeting participants represent state public utility commissioners and their staffs, federal energy agencies, regulated industries, and special interest groups. The meetings are a place to define issues, float solutions, and begin to understand and narrow disagreements.
Nuclear power and rate design were hot topics at this summer's meeting because of cracks in the present electricity system created by new technologies and environmental regulation.