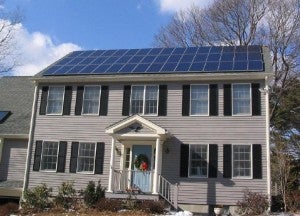 A recent study by the Lawrence Berkeley National Laboratory (LBNL) concludes that the way a utility charges customers can greatly influence whether they will install solar panels. It is a timely analysis because utilities across the country are redesigning their rate structures to accommodate our changing electricity system, which is becoming cleaner and more efficient than ever before.
What's unfortunate is that some utilities are intentionally trying to destroy customers' incentive to install solar panels. Why? Because rooftop solar reduces shareholder profits and revenue for utilities.
Solar Electric Power Association (SEPA), a solar industry trade group, reports that in 2014, residential customers installed solar panels at an astounding 36 percent growth rate compared to 2013. But the LBNL study says the rate design changes now being proposed by utilities across the country could slash solar panel growth up to 60 percent. Clearly, poorly designed rate changes could devastate the potential for solar panels to help transform the electricity sector. Regulators should not let this happen.
Utilities have the opportunity to change their rate design to provide incentives for more solar adoption while also recouping investments and properly balancing their books. Read More »