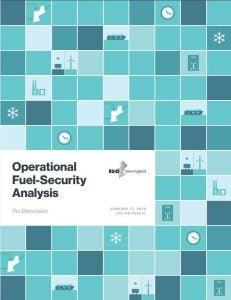 A recent report published by ISO-New England, the Operational Fuel Security Analysis, has certainly grabbed the region's attention.
"The ISO has been able to maintain power system reliability during severe winter conditions without using all its emergency procedures," the report says. "However, the evolving generation mix is increasingly susceptible to variable and uncertain factors."
The study looks ahead at the 2024/2025 time frame, examining 23 scenarios for coal, oil, gas, nuclear and renewable sources. While it says the system is maintaining a delicate balance for now, "study results suggest that in the future, New England could be headed for significant levels of emergency actions, particularly during major fuel or resource outages."
Although EDF doesn't necessarily agree with all the assumptions in the study, ISO New England is asking the right questions at the right time. So what are the best policies and actions we can take to ensure the New England utility grid is clean, reliable, and resilient?