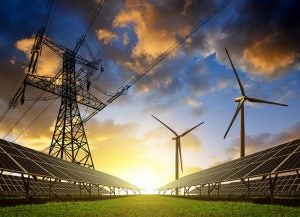 President Trump's regulatory freeze that halted four rules designed to promote greater energy efficiency appears to be just the first salvo in an ongoing plan to roll back environmental protections and slash environmental budgets. While that is obviously foolish from an environmental perspective, it is also problematic from an economic/job creation standpoint.
As program director of EDF Climate Corps, I have daily insight into how businesses are accelerating the transition to a clean energy economy while hiring the next generation of talented, motivated leaders – which is a good thing, because they're needed.
Our new report, Now Hiring: The Growth of America's Clean Energy & Sustainability Jobs, underscores this trend. As the economy becomes more sustainable and energy efficient, a new market for clean energy and sustainability jobs is created. This market is large, growing and intrinsically local. Even better, these jobs span across economic sectors, including renewable energy, energy efficiency and other green goods and services, like local and state government, transportation and corporations.
The report revealed three key trends as sustainability jobs continue to grow across the country:
Sustainability jobs represent a large and growing portion of the U.S. workforce across multiple sectors.
This isn't a small, niche workforce. In fact, it's outpacing the rest of the U.S. economy in growth and job creation. Solar employment opportunities alone are currently growing at a rate 12 times faster than the rest of the U.S. economy. And, they are generating more jobs per dollar invested–more than double the jobs created from investing in fossil fuels. Sustainability now collectively represents an estimated 4-4.5 million jobs in the U.S., spanning energy efficiency and renewable energy, to waste reduction and environmental education.
[Tweet "As Trump signals a rollback on environmental regulations, a new jobs report indicates that may not be such a good idea"]
Due to the on-site nature of many renewable and energy efficiency jobs, these jobs cannot be outsourced, and can pay above average wages.
These aren't just any jobs; they are well-paying, local opportunities that bolster our domestic economy. Most renewable and energy efficiency jobs can be found in small businesses, requiring on-site installation, maintenance and construction, making them local by nature. And, many pay higher than average wages. For example, energy efficiency jobs pay almost $5,000 above the national median, providing rewarding employment options to all Americans–even those without college or advanced degrees.
Clean energy and sustainability jobs are present in every state in America.
The entire country has benefitted from the boom in clean energy and sustainability jobs, which has employed workers in every state. Energy efficiency alone provides 2.2 million jobs, spreading out across the nation.
Continuing the Momentum
So how do we continue this momentum? Investments in clean energy and sustainability pay off in the long run and foster a stronger economy—that equals more jobs and a cleaner future. This is why businesses are increasing their investments in sustainability. A recent survey found that three quarters of firms now have dedicated sustainability budgets, and even more have hired additional sustainability staff. But that doesn't surprise me. Corporate America understands that prosperity and a low-carbon economy go hand-in-hand, and should continue to support investment in this area.
Policy makers at the local, state and federal level must also recognize the positive economic impacts of this new job class and support the policies and programs that encourage growth and investment in renewable energy, energy efficiency, green transportation and more. Efforts to roll back or weaken environmental and energy policies will negatively impact current and future U.S. jobs, while slowing clean energy innovation.
If the question is how to help both the environment and the economy, we don't have to search for the answer: it's already here. America is transitioning to a clean energy future—we can't afford to stand in its way.
This post originally appeared on Forbes.
Photo credit: iStock/vencavolrab