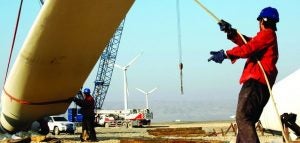 We're halfway through "Energy Week" at the White House–a series of events promoting President Trump's energy policies. These are policies the administration claims will boost the economy and grow America's energy dominance (note the change from "energy interdependence" to "energy dominance"), while creating jobs by reviving America's declining coal industry.
It's the same plan we've heard since Trump's first day as President. So let's ask ourselves, is it working?
Slashing climate policies
In March, Trump signed an executive order to dismantle the Clean Power Plan, and on June 1st, he followed through on his promise to pull the U.S. out of the Paris Agreement. These reckless decisions were a major setback to both our nation's economy and our job market.
The decision to withdraw from Paris was justified by the "economic unfairness" that it would bring upon the country, citing negative effects on jobs. The administration claimed they would continue to be the "cleanest and most environmentally friendly country on Earth", but not at the expense of our businesses and jobs. After business and world leaders criticized his actions, Trump defended his decision by stating he was simply fulfilling a campaign promise.
This was a campaign promise to bring back [coal] jobs. It's time we check whether Trump has delivered.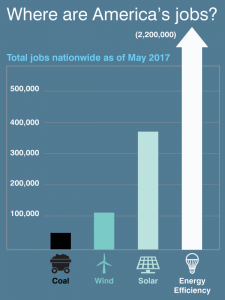 America's job board: where does coal fall on the list?
In addition to his actions on the Clean Power Plan and the Paris agreement, Trump has focused on weakening health protections that reduce the impacts associated with the production of fossil fuels, like coal. Since then, the coal mining industry has added a mere 1,000 jobs, bringing us to a total of just 51,000 coal mining jobs nationwide—keep in mind that's roughly only .03 percent of the more than 150,000,000 jobs in the U.S—as of May 2017. And of those industry workers, only roughly one-fifth actually mine the coal. These numbers fall far behind the 50,000 coal jobs that EPA Administrator Scott Pruitt claimed have been created in just the time since Trump became president.
It's time we look at the long-term picture. The economic realities of the past few decades haven't favored coal power and this isn't going to change. The decline of coal-related jobs is partly due to the rise in cheap natural gas, combined with increased continuous automation, and the industry is forecasted to see an additional 51% reduction in generation by 2040. We're heading in a new direction. The U.S. power sector—as states and power companies reaffirm their commitments to de-carbonization—is well-positioned to continue to reduce carbon pollution.
[Tweet "Six months into the presidency, where are all the jobs?"]
Meanwhile, despite Trump's best efforts to dismantle their progress, renewables are on track to see a 169 percent increase in generation by 2040, bringing with them clean, local and well-paying jobs. There are an estimated 4-4.5 million clean and sustainability jobs in the U.S. today according to this Now Hiring report. Solar and wind alone account for close to half a million jobs, and energy efficiency makes up another 2.2 million more jobs. The rest are in fields such as natural resources conservation, corporate sustainability and environmental education.
The future of clean jobs only looks more promising. Wind turbine technicians are the fastest-growing occupations in America, adding jobs over nine times faster than the overall economy, just behind solar jobs, which are growing at a rate 17 times faster than the rest of the economy. And, investing in renewables or energy efficiency results in about 5 more jobs than the same investment in fossil fuels. That's an opportunity we can't afford to turn our backs on.
Moving the needle in the right direction
If Trump wants to fulfill his campaign promises of creating jobs, then he should redirect his attention from the dying coal industry to the booming clean energy sector. Why? Because it makes economic sense. That's why business leaders, investors and politicians are demanding that the Trump administration deliver a plan to address climate change with smart policies.
There's a way for Trump to make good on his campaign promises to bring back America's jobs and lead us closer to becoming energy "dominant". The answer is to invest in clean energy and energy efficiency jobs.
This post originally appeared on our EDF+Business blog.