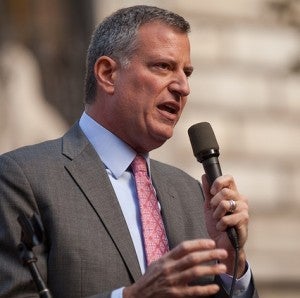 Every year on Earth Day, people around the world show their appreciation of our planet and pledge their commitment to protecting it. Here in NYC, there are events at every scale – from composting demonstrations to announcements of citywide sustainability plans. Mayor Bill de Blasio took the opportunity to announce his plan for 'A Strong and Just City', called OneNYC. Mayor de Blasio was elected on a platform of equality across the city – uniting what he called the 'two New Yorks' – and this plan shows his commitment to that vision.
OneNYC builds on the success of former Mayor Bloomberg's sustainability plan, PlaNYC, but expands the focus to citywide equality. By including issues like education and affordable housing, Mayor de Blasio has reaffirmed his commitment to equity in New York City, while also setting ambitious goals to meet climate change challenges.
Some of the major goals outlined in OneNYC consist of:
Helping 800,000 New Yorkers move above the poverty line by 2025;
Zero waste sent to landfills by 2030; and
An 80 percent reduction in carbon emissions by 2050.