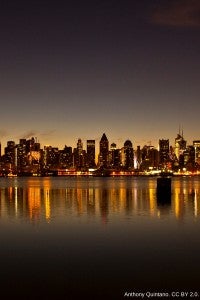 Building on the momentum of Climate Week NYC and the Pope's visit to New York last week, Mayor Bill de Blasio announced today the launch of an ambitious new program called the NYC Retrofit Accelerator.
Tasked with upgrading 20,000 (or 15 percent) of New York City's private buildings – 40 percent of which will be low-income housing – the Retrofit Accelerator will provide resources for buildings owners and managers to improve their energy and water efficiency. Addressing energy use in buildings is key to meeting the city's ambitious carbon reduction goals, as buildings account for roughly 75 percent of the city's carbon emissions. It is estimated that the Retrofit Accelerator will result in cutting approximately 940,000 metric tons of carbon dioxide equivalent annually by 2025. The city has said this is the equivalent of taking 200,000 cars off the road.
If this program sounds familiar, that's because de Blasio revealed Retrofit Accelerator at Climate Week NYC last year as part of the broader One City Built to Last plan. Today's announcement marks the formal launch of this program, an exciting expansion of the successful NYC Clean Heat model, which resulted in New York's cleanest air since the early 1960s.
NYC Clean Heat as a model
Since it was started in 2012, NYC Clean Heat has become a major air quality improvement tool for the city and its residents – all by simply working with building owners to replace dirty heating oils with cleaner fuels. A key component of this program's success was the diverse coalition of financial, real estate, and non-profit communities that EDF and the city convened to provide insight for the program's implementation.
Indeed, Mayor de Blasio is using NYC Clean Heat as a blueprint for the Retrofit Accelerator, expanding it from one issue – heating oil – to many. With the Retrofit Accelerator, buildings will receive help for everything from lighting to full-building retrofits, while still receiving help with heating oil conversions if necessary.
[Tweet "Mayor De Blasio launches ambitious Retrofit Accelerator #EnergyEfficiency program"]
By connecting building managers with technical experts to help with retrofits, as well as financing opportunities to fund the energy efficiency upgrades, the Retrofit Accelerator stands to be just as effective as NYC Clean Heat.
We are increasingly excited about this model's potential beyond the five boroughs. As the Retrofit Accelerator takes off, we anticipate further success, and will look to replicate the program model across the U.S., and potentially the world.