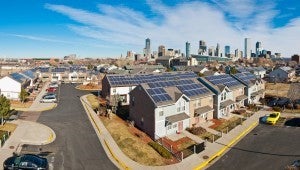 By: Victoria Mills and Cheryl Roberto
To many, it may seem that pursuing environmental sustainability would fall relatively low on a municipal housing authority's goals.  After all, providing moderate and low-income families with clean, stable homes in the face of uncertain federal subsidies and increasing taxpayer scrutiny is challenge enough.
The Housing Authority of the City and County of Denver (DHA), therefore, deserves praise for its innovative solar power program that not only provides renewable energy, but creates revenue for the housing authority, creates green jobs in the region, and saves taxpayers' money – all the while reflecting the spirit of the federal Department of Energy's Better Buildings Challenge, which looks to reduce energy consumption by 20 percent by the year 2020. DHA serves as a model for municipalities across the country.
Andrea Davis of the DHA's Real Estate Department and Chris Jedd, portfolio energy manager, showed the creativity and sheer will to make a lofty renewable energy goal affordable, manageable and successful, while providing their communities with empowerment, economic opportunity, and a vibrant living environment. Read More »