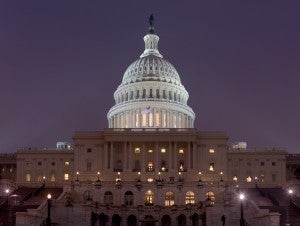 It's been a big news day in the U.S. Senate, with Senate Democratic Leader Harry Reid announcing he won't run for another term.
But that's not the only news.
We have had our eyes on the Senate's marathon "Vote-a-Rama" budget process that wrapped up around three-thirty this morning.
A number of environmental and energy votes came and went in a flurry of two-minute debates. While the votes mean little in terms of law (the budget bill doesn't even go to the president for signature), Senators on both sides of the aisle brought up measures as trial balloons to find out where Senators stand on issues that could resurface when Congress takes up other legislation in the future.
Disturbingly, but not surprisingly, polluter lobbyists were hard at work and Senators filed dozens of amendments attacking the Clean Air Act, the U.S. Environmental Protection Agency (EPA), President Obama's Climate Action Plan, and other environmental measures. Read More »