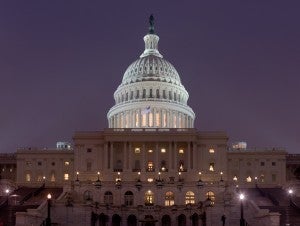 It's been a big news day in the U.S. Senate, with Senate Democratic Leader Harry Reid announcing he won't run for another term.
But that's not the only news.
We have had our eyes on the Senate's marathon "Vote-a-Rama" budget process that wrapped up around three-thirty this morning.
A number of environmental and energy votes came and went in a flurry of two-minute debates. While the votes mean little in terms of law (the budget bill doesn't even go to the president for signature), Senators on both sides of the aisle brought up measures as trial balloons to find out where Senators stand on issues that could resurface when Congress takes up other legislation in the future.
Disturbingly, but not surprisingly, polluter lobbyists were hard at work and Senators filed dozens of amendments attacking the Clean Air Act, the U.S. Environmental Protection Agency (EPA), President Obama's Climate Action Plan, and other environmental measures.
Others fought back with their own amendments calling for more — not less — action to protect our environment and health.
Incredibly, many of these quick attacks on the Clean Air Act, Clean Water Act, and other bedrock measures were supported by a majority of Senators. This despite overwhelming public support — across party lines — for environmental laws, standards, and enforcement to protect the air we breathe, the water we drink, and the planet we leave our kids.
Only a handful of the environmental amendments that were filed were actually voted on. But expect more attacks this year and next.
The most dangerous attack was launched by Senate Majority Leader Mitch McConnell, who has made it a top priority to undermine EPA's Clean Power Plan and give electric utilities a free pass on smokestack carbon pollution. His attack on the Clean Power Plan passed on a vote of 57-43.
(You can see the votes on the McConnell amendment #836 here. "Nay" is the pro-environment vote.)
Nevertheless, there are some positive takeaways.
Our pick for the most promising development was a climate amendment from Sen. Michael Bennet. The amendment promotes "national security, economic growth, and public health by addressing human-induced climate change through increased use of clean energy, energy efficiency, and reductions in carbon pollution."
The Bennet amendment #1014 passed by a vote of 53-47, with all Democrats and seven Republicans supporting it — Sens. Ayotte, Collins, Graham, Heller, Murkowski, Kirk and Portman. (You can see how any Senator voted by clicking here. "Yea" is a pro-environment vote.)
Another positive takeaway — not all is lost with the Clean Power Plan or other actions EPA and President Obama are taking on climate. To the contrary, most environmental attacks require 60 votes to pass, not 40, in the Senate. So the 43 Senators who stood up to McConnell's effort can be sufficient to beat back similar legislation or amendments down the road.
But clearly the margin is too thin, and it's up to all of us to let our Senators know that we are paying attention and that we oppose these sneak attacks on America's environmental and climate laws and rules.
Photo source: Wikipedia
This post originally appeared on our Climate 411 blog.