Th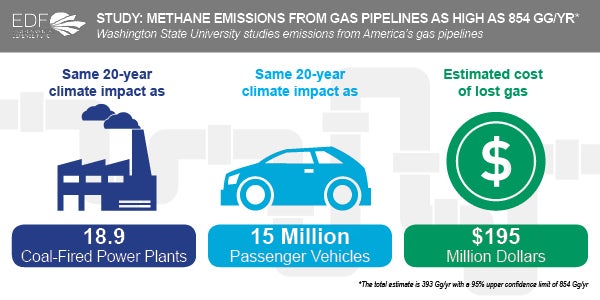 e most important takeaway from a study released today by Washington State University (WSU) is that despite improvements, large amounts of methane continue to leak from the nation's local natural gas systems. Because methane is a particularly potent greenhouse gas, these yearly emissions are comparable to the CO2 from as many as 19 coal-fired power plants.
The estimated value of the gas escaping each year, by the way, is up to $195 million.
Although these figures represent a major ongoing challenge for gas utilities, they do reflect substantial improvement over the past two decades, thanks to a combination of effort and investment by utilities, along with a series of both state and federal policy changes enacted since 1992.
The new findings reinforce the fact that when regulators and companies both set their minds to fixing a problem, they can get some pretty good results. Methane, the primary component of natural gas, is a particularly powerful climate warmer – 84 times more potent than carbon dioxide over the first 20 years after it is released to the atmosphere.
While they remain a serious problem, the ongoing utility emissions also represent an important opportunity for companies and regulators to make a big dent in greenhouse pollution. EDF believes the study underscores three major areas where improvement is necessary:
Utility efforts and state requirements to replace leaky pipes and repair leaks are working; these efforts need to be accelerated and expanded to additional utilities and states;
Regular surveying and reporting by utilities should include not just finding leaks, but also measuring the amount of methane escaping into the atmosphere;
A small number of leaks account for a disproportionally large share of overall emissions and among specific utilities, both of which suggest that using average emission rates does not accurately reflect the amount of methane any one utility or leak emits.
New standards and better practices
The Washington State analysis finds that emissions are between 36 and 70 percent lower than estimates based on widely used assumptions drawn from research in the 1990s. Since then, utilities have invested heavily in replacing leak-prone hardware and infrastructure as both state and federal regulators have intensified their focus on plugging holes in local distribution systems.
The federal Pipeline and Hazardous Materials Safety Administration (PHMSA) introduced extensive new planning and monitoring rules for utilities beginning in the late 1990s, and the Environmental Protection Agency (EPA) issued greenhouse gas measurement and reporting requirements for utilities in 2011, which the study authors have credited as having a big effect on the lower emissions seen in the new results. EPA also established rules in 2011 requiring gas utilities to measure and report methane leaks from their metering and pressure regulating (M&R) stations.
About 40 states have replacement programs for leak-prone utility pipes, and 15 require leak classification and repair timelines. Pipeline explosions in California, Pennsylvania, New York and New Jersey have prompted more oversight, particularly where aging infrastructure is involved. In addition, state regulators have increasingly been requiring utilities to reduce ratepayer cost for gas lost from their systems.
Pinpointing problem areas
The WSU study shows major variations by region and type of pipes (which is often related to the age of a particular system). More than thirty percent of leaks reported by utilities participating in the study were in the northeast. Fully 70 percent of emissions reported by northeast utilities – and almost half of total U.S. emissions – were from old cast iron and unprotected steel pipes.
As EDF's leak mapping project has shown, areas with large amounts of old cast iron or bare steel pipes often have more and bigger leaks. According to PHMSA, cast iron and unprotected steel represent less than 10 percent of the nation's utility distribution system pipeline miles – mostly in the Northeast – but are responsible for 46 percent of the total emissions from those systems.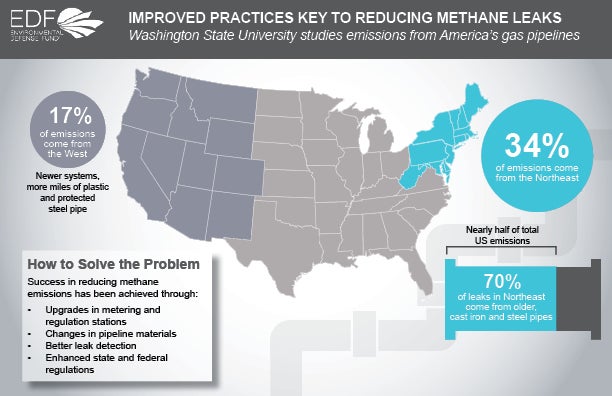 Investment pays off
Progress reflected in the WSU results proves that efforts by utilities, as well as both state and federal regulators, to make sure that pipes are inspected, leaks are found, and leak-prone pipe is replaced are paying off. Utilities throughout the country, including nearly all of the 13 companies included in the study, have undertaken programs to replace leak-prone pipe and customer meters, after receiving authorization from the state public utility commissions that oversee their operations.
However, while it's true that according to federal records local gas utilities have replaced close to 40 percent of the leakiest pipes that were in service in 1990, 60 percent of these old pipes are still in the ground, and still leaking. And at today's rate, it will take at least another 50 years to replace them.
Size matters
Current safety regulations also don't require utilities to measure the size of their leaks. That means even some large leaks are allowed to emit methane for years on end, provided they're away from crowded areas. In fact, the study found that just three large leaks, of the more than 230 measured from pipes, accounted for 50 percent of the total measured methane.
Until recently, however, it also hasn't been easy to assess which leaks are emitting the most natural gas. Fortunately, the technology for finding and measuring leaks is rapidly improving, making it easier to prioritize where to focus resources to get the best results. For example, EDF is currently working with utilities including Con Edison, National Grid, and Public Service Electric & Gas to accelerate the development and commercialization of lower-cost technologies to size up underground leaks.
New and better opportunities to fix the problem
Our collective understanding of methane leaks and the availability of low cost technology has reached the point where utilities should not be just counting their methane leaks, but also quantifying and reporting them on an a regular basis so we know much gas is being wasted and what it's doing to our climate and our air.