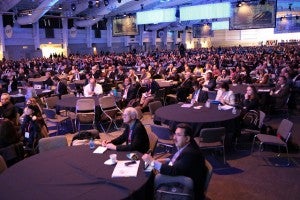 Each month, the Energy Exchange rounds up a list of top clean energy conferences around the country. Our list includes conferences at which experts from the EDF Clean Energy Program will be speaking, plus additional events that we think our readers may benefit from marking on their calendars.
Top clean energy conferences featuring EDF experts in April:
Apr 8: Breaking Energy Startup Forum and Mixer (New York City, NY)
Speaker: Rory Christian, Director, New York Clean Energy
Breaking Energy is hosting our first "Energy Startup Forum and Mixer," which brings together clean energy industry experts, editors, and members of the finance and legal communities to speak frankly about the energy startup space, New York's clean energy landscape, and to answer attendees' questions about the industry. We love the one-on-one time with panelists, but this is also a great opportunity to interact with our readers: Learning what they like about Breaking Energy and how we can bolster our coverage.
Apr 8-10: 2015 Comverge Utility Conference (St. Petersburg, FL)
Speaker: Michael Panfil, Attorney
This April, escape the winter blues by joining Comverge and your demand management colleagues for the third-annual Comverge Utility Conference! Investor-owned utilities, public power utilities, electric cooperative utilities, regulators, vendors, and consultants are all welcome to the conference. It's a great chance to touch base with peers and hear from a range of experts on the hottest topics in demand management.
Apr 13-14: South-central Partnership for Energy Efficiency as a Resource Third Annual Summit (Dallas, TX)
Speaker: Matt Golden, Senior Energy Finance Consultant for Investor Confidence Project
If increasing energy efficiency in Texas and Oklahoma is important to you, the South-central Partnership for Energy Efficiency as a Resource (SPEER) Summit is the best opportunity to network and market to utilities, cities, government agencies, and more. This is the premier event focused on energy efficiency in the region and provides excellent opportunities for networking for attendees and marketing for sponsors. SPEER designs the event to bring people together to identify strategies and actions that will accelerate energy efficiency in our region. The Summit is a great place to collaborate, network, learn, and even initiate new projects.
Apr 14-16: Women's Environment, Health, and Safety & Sustainability Leadership Roundtable (San Antonio, TX)
Speaker: Cheryl Roberto, Associate Vice President, Clean Energy
National Association for Environmental Management's Women's Environment, Health, and Safety & Sustainability (EHS&S) Leadership Roundtable gives corporate EHS&S leaders the opportunity to connect, share, and grow.  Attendees will meet and network, hear practical and actionable insights from the foremost women in the field, and participate in an interactive idea exchange on current issues facing women in the EHS&S discipline.
Apr 20-24: International Water Association Conference (Cincinnati, OH)
Speaker: Kate Zerrenner, Project Manager
Cincinnati, Ohio will host a joint IWA International Conference on the topics of Water Efficiency and Performance Assessment of Water Services, where we will have the opportunity to tackle the challenges that water services are facing in the 21st century. Water scarcity, climate change, increasing demand, and the deterioration of water resources all require a dedicated search for more efficient solutions – ones that need to be properly measured and assessed to guarantee their continuing efficiency value. This combined conference event will gather a large network of water professionals to exchange experiences on key topics on urban water.
Other top clean energy conferences across the U.S. in April:
Apr 9-10: Austin Electricity Conference: The Nexus of Markets and the Environment (Austin, TX)
The 5th Annual Austin Electricity Conference will once again convene a diverse group of experts from across the country to explore issues in the industry. The conference is an annual, invitation-only conclave of engineers, economists, policymakers, lawyers, and other experts in the electric utility industry, drawn from academia, industry, government, and NGOs. The conference follows the Aspen Institute model, in which extended plenary discussions are organized around short (less than 10 minutes) panel presentations so as to promote cross disciplinary discussion among the invited participants. In this way, the model treats all invited participants as "presenters" and puts less emphasis on formal panel presentations.
Apr 14-16: Solar Summit (Phoenix, AZ)
Now in its eighth year, Solar Summit is Greentech Media's flagship annual solar conference that attracts leaders from across the solar value chain. Join us in Phoenix for over two days of unrivaled networking opportunities and innovative, engaging panel sessions that will provide a unique mix of market intelligence and coordination among industry players.
Apr 22-23: ACORE Renewable Energy Policy Forum (Washington, D.C.)
Join the renewable energy industry as it mobilizes key policymakers and federal and state stakeholders to deliberate, develop, and advance the critical, near, and long-term policy priorities that will motivate the President in his last two years in office, the new Congress, state leaders, and the emerging slate of 2016 Presidential candidates.
Apr 28-29: PLMA Spring Conference (Phoenix, AZ)
Gain real-world insight from market practitioners, technology firms, and energy utilities and marketers active in the demand response marketplace. About 150 industry professionals are expected to attend, including: energy utility, marketer, and regulatory staff responsible for demand response, as well as industry advisors, including consultants and product and service providers.
Photo source: Flickr/National Retail Federation