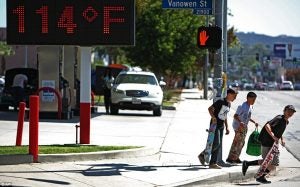 This blog was co-authored by Annie Cory, Princeton Environmental Institute (PEI) Intern for EDF's Oil & Gas Program
Just like many cities that have experienced record high temperatures in 2018, Los Angeles was hit with a heat wave of record proportions in early July, with temperatures topping 113 degrees in several parts of the county. As air conditioners across the region struggled to keep up, the heat pushed our energy grid over the brink, with blackouts leaving at least 80,000 Angelinos sweltering without electricity.
Such elevated temperatures are not typical for Los Angeles. Yet weather events like these are becoming both more frequent, and more intense. Burning more fossil fuels, of course, only compounds the warming problem.
To put a dent in the causes and impacts of man-made climate change, cities, states and nations will need to implement a portfolio of solutions aimed at cutting carbon across the board and boosting the resiliency of our energy grid. By increasing the share of renewable energy used to power our homes and businesses, and incentivizing technology like battery storage while expanding focus on energy conservation, the threat of blackouts can be greatly diminished during hot summer days.