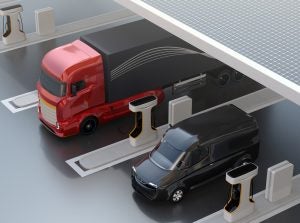 A new Environmental Defense Fund analysis finds that Texas' successful emission reduction program could be even more powerful if it went electric — not just for reducing smog-forming nitrogen oxides and other local air pollutants, but for cutting greenhouse gas emissions and sparking job growth in the burgeoning electric vehicle industry.
Administered by the Texas Commission on Environmental Quality, the Texas Emissions Reduction Plan provides financial incentives to reduce emissions from polluting vehicles and equipment. The bulk of TERP funding has been dedicated to quickening the replacement of larger diesel vehicles — medium- and heavy-duty vehicles. Since 2001, more than 35,000 TERP projects totaling over $1.3 billion in grants have reduced upwards of 183,000 tons of NOx, a major driver of the state's air quality challenges.
Applying TERP's annual grants to spur the electrification of Texas' truck and bus fleets would decrease NOx emissions faster and for as little as one-third the cost per ton of NOx compared to TERP's past grant programs.