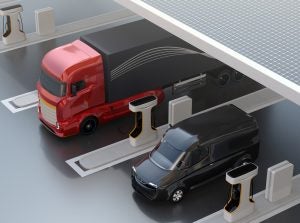 We should thank Ford, GMC and Tesla for capturing the world's attention with flashy promotions of their upcoming all-electric F-150 pickup, Hummer and Cybertruck. If there's one thing that will make you think differently about electric vehicles, it's the image of a Hummer owner plugging in instead of filling up.
But when it comes to electric trucks, the consumer market is just the tip of the iceberg.
The electrification of the medium- and heavy-duty truck sector — everything from semis and delivery vans to transit buses and garbage trucks — is already underway, and analysts say it could spark a $47 billion global industry.