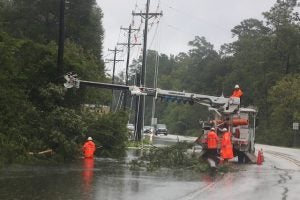 By Ronny Sandoval, Kate Zerrenner
Eight months after Hurricane Harvey, affected communities are still rebuilding their lives and businesses.
One area that hasn't required as much attention to rebuild: Texas' electricity grid. Shortly after the storm, the Electric Reliability Council of Texas (ERCOT), the state's main grid operator, said, "The ERCOT grid has remained stable, and competitive electricity markets have continued to operate normally." That said, nearly 300,000 consumers were without power during the storm's peak. Therefore, the state's electricity restoration after Harvey is a story of resilience – and an opportunity to do better the next time around.
Though the impact and $125 billion in damages that Harvey caused were catastrophic, some of the investments and decisions made in Texas well before the storm allowed for faster restoration of power than would have been the case just a few years prior. Plus, renewable energy resources like wind turbines and solar panels can play a role in strengthening grid resilience. Investments in modern technologies – like digital controls, microgrids, and distributed energy – hold the keys to protecting people in towns and cities most susceptible to future powerful storms, and they provide insights for how Texas can prepare for the next power disruption. Read More »