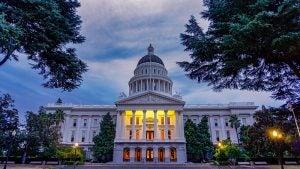 This year's legislative session here in California is poised to be a wild ride in clean energy – more ideas, intertwining issues, and intrigue are developing than in the last 10 years. A signal that the state's clean energy policy is coming of age, leaders and significant players are weaving all of the separate programs together and answering major policy questions. This progress can have a major impact on both California and the world around us.  It's like Pangea, spreading apart and creating the new world – only much faster.
A game-changer for the West
Take AB 813 by Assemblymember Chris Holden, for example. The bill would create a regional electricity market in the West – something that would combine the state's desire to expand its clean energy and climate policy and the need for all states, including California (with its high expectation for renewable resources), to balance and run their grids more affordably and effectively.
It is a policy solution that thinks large and small – taking into account the out-of-state pollution reductions necessary in order for California to move the needle on its climate goals while preserving participating states' and communities' control over their resource choices.
Even more clean energy progress
What's more, a suite of bills aims to put power into the hands of local communities in the form of clean energy. In addition to a regional electric grid for the West, these bills are poised to extend clean energy opportunities to more Californians:
SB 1399 (Sen. Scott Weiner) would help schools and small businesses who cannot develop renewable energy onsite to access clean, distributed clean energy projects. Projects could be sited on existing buildings, developed property, landfills, parking lots, etc. Details would be determined in the upcoming Net Energy Metering proceeding at the California Public Utilities Commission (CPUC).
SB 1380 (Sen. Henry Stern) would create a state information clearinghouse for people and businesses to find out about clean energy funding and financing opportunities. Clean energy includes efficiency and weatherization, renewables, electricity storage, and demand response.
SB 1131 (Sen. Bob Hertzberg) would give to California's agricultural and industrial sector energy-efficiency opportunities that have long been available to other residential and commercial sectors. It would do this by improving transparency in vetting projects at the CPUC.
Together, these bills advance California's clean energy leadership. They broaden access for a greater variety of energy users – like small businesses, the industrial and agricultural sectors, and local governments – to help their communities breathe easier. The bills also empower more Californians to participate in fight against climate change on local and national levels.
[Tweet "California's legislative session could be huge for state economy and world climate"]
All resources large and small
Another dominant theme this year is determining the roles of traditional energy providers – the utilities – and emerging players on the field. These new players include energy resources owned by customers and non-utility innovators in the markets for distributed solar panels, demand response resources, and energy storage.
One place this theme is playing out is in SB 1088 (Sen. Bill Dodd). The bill could threaten a wide variety of customer and third party-owned distributed resources, like those in the bills above ─ extremely problematic given these resources can help California more quickly and affordably fight climate change.
The tension between traditional energy providers and non-traditional, more distributed stakeholders is running through a number of issues like SB 1088, just below the surface, and lawmakers are likely to act on it this year.
We hope California can bring together ideas from the utility labor workforce and the distributed energy resource industry to create an approach to advancing a clean energy economy that promotes high-quality, well-paying jobs in a region where both large and small scale resources are thriving.
A big year for clean energy in Sacramento
Needless to say, all this action coming out of the state's capitol points to a great, big year for clean energy. It could further establish California's place at the cutting edge of climate action and clean energy innovation and set the direction for its policies for decades. It is worth staying engaged – both for decision-makers and others who have a major stake in clean energy and in California's future.  These are not simple issues, but there are solutions that help California – its people, its jobs, and its economy – rise above.