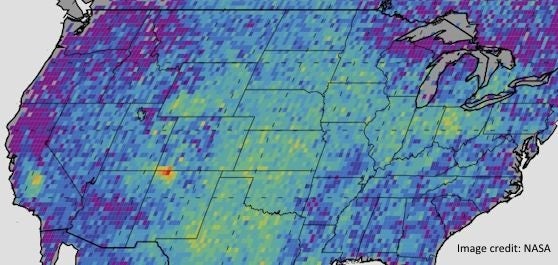 New findings by NASA scientists attributing a giant, invisible cloud of methane – nearly 5 times the size of Mexico City – over the southwestern U.S. to the region's sprawling web of oil and gas facilities raise important new concerns not just on this side of the border, but for Mexico as well.
Methane is an extremely potent greenhouse gas, with more than 80 times the warming power of carbon dioxide over a 20-year timeframe. Scientists estimate that methane contributes to about 25 percent of today's warming. Cleaning up methane also reduces other pollutants: both ozone precursors that affect air quality and air toxics that erode human health.
The recent NASA paper linking the methane cloud to production, processing and distribution of oil and natural gas also notes that just a small portion of these sites, about 10%, were responsible for more than half the emissions. This is just the most recent example of a long list of scientific studies that have found that subset of sites or facilities disproportionately account for the majority of emissions. Scientists have called this subset of sites super-emitters.
Why it Matters to Mexico
Methane emissions have rapidly become a high profile challenge for U.S. oil and gas companies and their regulators. Thanks to extensive research, we now have a much fuller picture of the problem – and the opportunities to fix it – than we did just a few years ago. But most other countries, including Mexico, are just starting to peel back the curtain.
According to a report that compiled oil and gas methane emissions across the world, Mexico is the world's fifth largest oil and gas methane emitter. The latest version of the national inventory shows that one fourth of Mexico's total methane emissions come from the oil and gas sector.
Improving Visibility
One of the most promising new ways to measure methane from the oil and gas sector is satellites. The NASA hotspot study is a good example of the big-picture data satellites can provide over a vast region. Analysis of satellite data to learn more about Mexico's methane emissions is currently underway.
As part of a research project conducted by Harvard University, methane emissions data collected using satellites will be retrieved and compared to the Mexican inventory. By zooming in on the Mexican oil and gas sources, their emissions and locations, we will be able to get a clearer picture about the magnitude of emissions and the accuracy of the inventory. Reducing methane emissions from the oil and gas system requires that we have certainty about how much methane is being emitted and where.
Plugging the Leaks
Plenty of solutions for fixing the oil and gas industry's methane problem are readily available, and at a very low cost. One recent analysis, for example, showed the country could achieve a 45% reduction in oil and gas methane pollution, while saving about 40 million pesos a year.
The positive climate impact of these low-cost reductions is partially why PEMEX has joined the UN's Oil and Gas Methane Partnership to measure and reduce its emissions. It's also why Mexico's federal government stepped up in June, announcing a 45% national methane reduction goal by 2025 (matching a similar target made by Canada and the United States). This step not only showed significant climate leadership, but once rules are fully implemented, Mexico could meet about 10 percent of its international climate pledge.
Now is the time for Mexico to deliver on strong methane regulations that will require foreign oil and gas companies to operate at the same standard as they will in the U.S.  If this doesn't happen, growth in this sector catalyzed by historic energy reform could usher in untold amounts of methane pollution that could ultimately undercut Mexico's ability to meet its climate goals and protect the air quality of its citizens.
This post originally appeared on El Universal. Read this post in Spanish here.