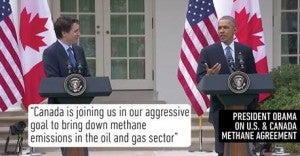 It was a big week in Canada-US relations. For the first time in 19 years, the White House hosted the Canadian Prime Minister for a state dinner. And for good measure, President Obama and Prime Minister Trudeau announced a renewed collaboration to combat climate change starting with methane, one of the most potent greenhouse gases.
Under the pact, the United States and Canada committed to reduce oil and gas methane gas emissions by 40-45 percent below 2012 levels by 2025. Both countries also said the goal would be met by developing regulations for existing sources as well as new ones – a crucial concern – and challenged other countries to adopt similarly aggressive oil and gas methane goals.
This new level of cooperation will deliver significant progress for both Canada and the United States toward achieving their emissions reduction commitments set at the Paris climate talks held this past December.
A Big Climate Opportunity
Curbing methane pollution from the oil and gas industry represents the largest untapped opportunity to quickly slow global climate change because of both methane's potency, and because we can cost-effectively reduce these harmful emissions using existing technologies.
We know that we must control and reduce carbon dioxide because it is the pollutant that ultimately impacts the total amount of warming our planet will experience over time. However, we also know that methane's warming power is 84 times more potent than carbon dioxide over the first 20 years it sits in the atmosphere, and that methane accounts for 25% of the warming we feel today.
That means that cutting oil and gas methane is one of the biggest, cheapest and quickest ways to make real progress on climate change right now.
North America Key to Progress
In yesterday's announcement the two leaders "invite[d] other countries to join the target or develop their own methane reduction goal," highlighting that the opportunity to reduce methane emissions expands beyond the United States and Canada.
For starters, we would hope that the new Canada-U.S. collaboration will inspire comparable action by Mexico to reduce oil and gas methane emissions and potentially build a platform for future North American climate cooperation.
The U.S., Canada and Mexico are three of the top five global industrial methane emitters. All three countries also highlighted oil and gas methane emissions in their Paris commitments, making it logical for them to work together to achieve those goals.
Further, recent ICF studies evaluating the methane reduction opportunity in the U.S. Canada, and Mexico show that, using current technology, methane pollution can be reduced 40% to 54% for the low cost of an average penny per thousand cubic feet of gas produced. These are some of the most cost-effective reductions that exist in these countries.
The World Beyond
We hope that this week's agreement will inspire global action on this potent pollutant. If the rest of world were to also implement a 45 percent oil and gas methane emission reduction goal, that would have the same short-term impact as closing 1,000 or one third of the world's coal-fired power plants.
The leadership demonstrated by both President Obama and Prime Minister Trudeau has paved the way to tap into this opportunity. Let's hope this is the start of something much bigger and much better, for the sake of our shared future.