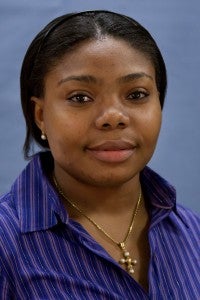 By: Ifeoma Henry-Ajudua, 2011 Climate Corps Public Sector Fellow at Bennett College in Greensboro, NC; MBA/MIS candidate at North Carolina Central University
My EDF partner, Bridget Wilson, and I, the Team Bennett fellows, are off to a good start at Bennett College in Greensboro, NC. Bennett College is a historically black, all-women's college founded in 1873 that is listed on the National Register of Historic Places. This presents a big challenge for us regarding energy efficiency because upgrades and changes must stay within strict building guidelines. We are working closely with students to create an energy savings plan that everyone can get excited about.
Bennett has been working on lighting upgrades, replacing dead T-12 bulbs and ballasts with energy efficient T-8 systems. Hearing about this initiative early on, our first project was determining if it was more cost and energy efficient to replace T-12 lights only when they stop working, or to replace them right away with T-8 lights. After analyzing the sizes of the buildings, lifespan of the old lighting, cost of the new bulbs and ballasts – and factoring in Duke Energy's Super Saver Program – we saw that the best option was to immediately upgrade the lighting systems. In order to show Bennett the potential cost savings and promote upgraded lighting, we are running a pilot program in the Pfeiffer Science building. The data from this building will be used to create a campus wide feasibility and execution plan.
A second quick score for Team Bennett came when Coca-Cola in Greensboro agreed to de-lamp all of the machines on campus. We are also recommending installing "vending misers," which work like a sleep setting for a vending machine when nobody is around. Vending machines normally run full-time for the entire year. Installing a miser reduces energy use by 1,640 kWh —more than $800 of savings per year. The energy saved also keeps 2,000 pounds of greenhouse gas pollution, 5 pounds of nitrous oxides, and 12 pounds of sulfur oxides out of the atmosphere. The payback period for the low-tech vending misers? Less than 3 years.
Team Bennett has more great projects in the works, including one in the dorms. We are starting work on heating, cooling, and water savings. More to follow as summer progresses!
EDF Climate Corps Public Sector (CCPS) trains graduate students to identify energy efficiency savings in colleges, universities, local governments and houses of worship.  The program focuses on partnerships with minority serving institutions and diverse communities.  Apply as a CCPS fellow, read our blog posts and follow us on Twitter to get regular updates about this program.