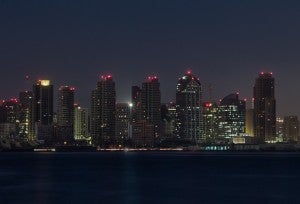 By Jayant Kairam and Timothy O'Connor. 
Adding insult to injury, Californians learned this spring that the disastrous four-month methane leak at the sprawling Aliso Canyon natural gas storage facility could result in a new problem: outages.
The failure at Southern California Gas Company's massive storage site exposed a critical weakness in the state's energy system. Densely populated Southern California is over-dependent on natural gas from a single provider.
As a result, a vast area stretching from San Diego in the south to Los Angeles and San Bernardino County in the east may face power and gas shortages during the hot summer and cold winter months, a recent report by a group of state regulatory agencies warned.
Will lights stay on?
Some analysts have suggested the possibility of power and gas outages might be exaggerated, but there's no debate that the region is cutting it way too close for comfort.
Millions of people and thousands of businesses could be exposed to costly service disruptions if the region's 17 gas-fired power plants can't operate as expected and other gas needs go unmet.
It's going to take time for the state to diversify its energy mix and create a stronger, more resilient system.
There's recognition today that by balancing market incentives we can fuel competition between natural gas and clean energy resources to gradually transition to a more dynamic, reliable, and modern electric grid.
In the meantime, there are four steps regulators, utilities and consumers are already taking – and which must now be fully utilized and expanded to relieve immediate pressure:
1. Speed up deployment of demand response programs
This tool rewards customers for shifting their energy use to times of day when there is less demand on the power grid, or when renewable energy is more abundant. In turn, demand response reduces strain on the system when it's most likely to hit or exceed maximum capacity.
Programs such as California's Flex Alert, the Demand Response Auction Market and so-called automated demand response programs are all models that should be maximized.
2. Help consumers take advantage of time-of-use pricing
A different approach uses the power of prices to encourage consumers to adjust their energy use to times when the grid is not stressed – and renewable energy sources are plentiful. In addition to conserving energy, this program reduces bills.
This option is being piloted in California and already in use in other states. Southern California Edison's pilot has more than 20,000 participants. If the utility educates consumers, they can take full advantage of this new program as we move into the summer months and the risk for power outages rises.
[Tweet "As SoCal braces for Aliso Canyon-related blackouts, these energy programs can help"]
3. Invest in energy efficiency
Energy efficiency investments in residential and commercial buildings are among the most cost-effective and fastest ways to reduce peak energy and natural gas use.
California recently authorized an additional $250 million to target efficiency measures to households most affected by the Aliso Canyon leak, and to capture greater energy savings. These efforts can ease demand and reduce bills, especially in low-income communities. It's critical that utilities fully leverage these funds.
4. Fast-track energy storage
Utilities and third-party providers can quickly build, connect and use home batteries and other energy storage systems to balance high energy demand. A leader in this area, California is already requiring utilities to invest in such projects – but more needs to be done.
Om a direct response to the Aliso Canyon disater and subsequent power reliability issues, the state's Public Utilities Commission recently authorized fast-track procurement and deployment of this rapidly emerging technology to minimize the risk of outages. It's an opportunity Southern California doesn't want to miss.
California already generates more than one-quarter of its energy from renewable sources, and plans to boost that to 50 percent by 2030.
Turning the Aliso Canyon disaster into opportunity
California already generates more than one-quarter of its energy from renewable sources, and plans to boost that to 50 percent by 2030. By diversifying its energy portfolio for the long-term and designing a more competitive market, this state – like others – can become less dependent over time on one single fuel source.
But as the risk for power outages shows, these targets alone are not enough.
By rapidly scaling up programs that exist today, in addition to doubling down on clean energy investments, we can turn the Aliso Canyon disaster into an opportunity while keeping the lights on and our economy humming.
It's what Americans expect.
This post originally appeared on our EDF Voices blog.