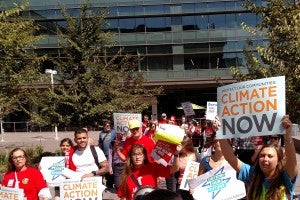 Over the last two weeks, EPA has held a series of hearings across the country to collect public testimony in response to its new proposal to curb oil and gas companies' emissions of the potent greenhouse gas methane. The hearings provided a chance for stakeholders in areas where the oil and gas industry has a significant footprint – Dallas, Denver and Pittsburgh – to voice their concerns and perspectives. Lawmakers, business leaders, health professionals, and other community members arrived at the hearings by the hundreds to show support for actions that can stop wasteful drilling practices, improve air quality, and slow climate change.
Out of Denver, Colorado State Representative Joseph Salazar told the EPA he supported efforts to regulate methane pollution simply because "I want to make sure my children have clean air to breathe and clean water to drink."
His remarks were echoed by Christine Berg, mayor of Lafayette, Colorado: "Ask yourselves, shouldn't all people, no matter where they live, have equal access to clean air?"
The state of Colorado thinks so. In February 2014, the state issued its own policies to regulate oil and gas methane emissions—a decision that was also met with broad public support and even earned favor with the state's leading oil and gas companies.  They too had good things to say.
"Taking necessary steps to keep methane in the pipes is the right thing to do," Kate Fay, a representative with Noble Energy, told the EPA at the Denver hearing.
It's not surprising that even in today's polarizing political climate, pollution reductions from the oil and gas industry are receiving broad public support because the pollution affects us all and the solutions are affordable and straightforward. Methane is currently responsible for about 25% of the global warming being observed, and it escapes with other pollutants that create smog and cause cancer —so reducing emissions carries significant public health and climate benefits.
Methane is also the primary component of natural gas, so leaking methane is actually leaking away product. It's estimated that over a billion dollars' worth of gas is wasted every year. That's why methane policies are receiving praise from many in the business community as well.  They know that regulating emissions is one of the best bargains for addressing climate change because cost-effective tools needed to find leaks and cap emissions are not only available but are being implemented by many companies.
"Our customers have found thousands of leaks each year and significantly reduced their fugitive emissions," Brent Lammert, vice president of sales at FLIR said during his testimony in Dallas. FLIR manufactures infrared cameras that can be used to detect methane leaks—one of many technologies oil and gas companies can use to reduce emissions.  "We have found the cost for operating an optical gas imaging program to be very affordable even for smaller producers and low producing wells," he said.
So, if benefits of reducing methane pollution are so straight forward, why bother with federal standards? Because industry has shown it won't curb emissions on its own. Fewer than 1 percent of all oil and gas producers have participated in EPA's voluntary methane reduction program–and as a result of this level of inaction, they're leaking more than 7 million metric tons into the atmosphere each year.
"We need strong rules to cut methane emissions for the health of our children because the industry does what is inspected, not what is expected," Patrice Tomcik, a member of Mom's Clean Air Force, told EPA in Pittsburgh.
But just as crowds applauded EPA for their proposed action, they called for stronger protections.
"I applaud the EPA's proposed federal rule regulating new methane emissions, however, because this rule only covers new and modified sources of methane emissions, it is insufficient to produce the emissions reductions we need," said Sage Lincoln, a student at the University of Pittsburgh who spoke to EPA about the need to reduce greenhouse gas emissions for future generations. "You cannot allow the thousands of existing oil and gas wells in our state to continue to spew pollution."
This public testimony matters. As EPA's associate assistant administrator Joe Goffman told a group of policy experts  earlier this week, the comment period is the most important part of the process for ensuring the final rules deliver meaningful reductions. With a final count of 305 community members speaking out in favor of federal action on methane and only 18 against, it's clear where the public stands. Methane pollution standards are a win for our climate and our communities.
Photo Source: Randy Francisco, Sierra Club