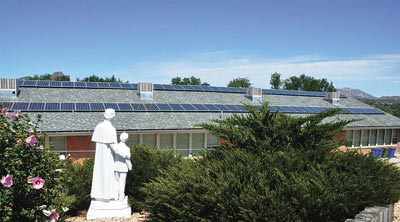 Last week's papal encyclical on climate change galvanized those of us who already see responsible stewardship for the earth as both a moral mandate and business imperative. In the 184-page document, Pope Francis calls for a sweeping overhaul of political, economic, and individual practices to halt the degradation of the environment and protect our planet for the long term.
The pope's sweeping vision is sure to prompt churches, people of faith, and a whole range of organizations to rethink their actions with regard to use of energy, water, and other natural resources. But already, religious organizations have been working quietly and steadily to effectively manage their environmental impact, in keeping with the established theological tradition of moral economic development and use of resources.
Take Gene Murphy of Prescott, Arizona, as a prime example of someone sitting at the intersection of religion, sustainability, and business. As the business manager for the Sacred Heart Parish in the Diocese of Phoenix, Gene has developed scalable solutions for his church and school that could and should be replicated across all churches, schools and relevant organizations.
The church performed a clean energy retrofit covering lighting, windows, waste, and solar power that dramatically reduced their utility spending from $94,500 a year to $37,000 (or $157 in daily savings) and transformed the 32,000 square foot school into a near net-zero building. The solar project alone reduces more than 230,000 lbs of CO₂ per year, and the building is now lit with 97 percent LED lights. Gene is already drafting a template for similar organizations to use in analyzing their opportunities in light of new technologies, regulations, and methodologies.
At Environmental Defense Fund, we see Gene and the Sacred Heart Parish as a real-life example of the kind of pragmatic stewardship the pope is calling for, and we got on the phone with him to get some deeper insights into the parish's transformation.
Q: In your view, how does fighting climate change relate to Catholic teachings?
A: This is great timing with the pope's encyclical. There are all sorts of different congregations that are doing this. It's what we need to do. The next step is to get politicians to buy into it.
We take the St. Francis pledge. That has to do with praying and reflecting on our duty to God's creation and to protect the poor and vulnerable, and to educate others on the causes and moral dimensions of climate change, teaching other parishes and affiliations how they contribute to climate change. Acts is one of the other tenets we use, to reduce the impact, and to advocate. I can prove, by my model, that it's not only morally and ethically the right thing to do, but I can prove that it is pragmatic. I think in business terms. My return on investment is within 10 years and then it's going to net my church $1 million.
Q: Why did you get into sustainability for your church?
A: I'm the parish business manager, so I'm always looking at the bottom line and how I can improve that bottom line. How can I improve the financial forecast for our budget at Sacred Heart church and school? One way is through efficiencies: we were able to capture $100,000 in rebates.
I'm always faced with budgets and shortfalls. I come from a retail background; I was used to running for-profit companies. I can't add another sale or another item here. We're already asking everything we can from our parishioners. I looked at it from a stewardship conception: I'm responsible for the dollars they give me; am I spending them the most prudent way?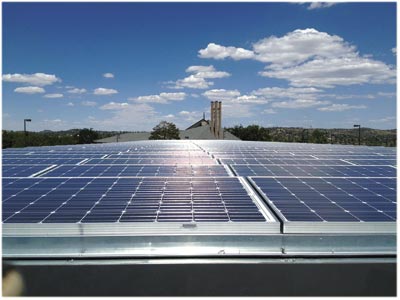 Most people look at their utility bills as a fixed bill. I look at it as a variable. How can I make an investment that will pay off with greater dividends than what the bank will provide, paying one to two percent on deposits?
It's not just about a great price; it's about making a difference. Our solar company installed two free solar systems for Habitat for Humanity recipients. That's huge when you're talking about someone who makes under $15 an hour, who is not eligible for a regular home loan. Habitat makes it possible: we reduced [the homeowners'] electric bill by $100 or $125 a month. That's huge when you're a single mother with four kids.
Q: Having been a sustainability champion for some years now, what's your reaction to the encyclical?
A: I think it's wonderful. We all do have a responsibility to protect our earth. The pope has a master's degree in chemistry; he's highly educated. When they write the encyclical, they've done the research, they've done all the critical thinking. A lot of people don't really believe in it, but if you look at the data, it's very convincing. I'm not a scientist and I understand that there's a problem.  You have to be proactive.
Q: Do you see this spreading to other parishes and non-Catholic organizations?
A: Absolutely. On June 30 we are having a lunch-and-learn, where we've asked for the electric companies to come in, and we have a couple of vendors with LED lights and solar. This is an educational forum and we're going to be able to duplicate this throughout the United States. Mostly parishes in the Phoenix diocese will come, but we are inviting other people. There's also going to be an interfaith event on Sept. 25th. Our efforts are going to be more than just Arizona. It's going to affect the whole United States.
Q: If you were talking to another church or organization that wanted to leap into action, where would you suggest they start?
A: People ask me, 'How much did it cost?' I turn that question around to say, 'How much did I save, is the question.' What it has done for Sacred Heart is tremendous. We've expanded our ministries, our outreach programs to the community. There's a bigger result.
Q: What obstacles might people anticipate if they want to follow your lead?
A: Of course. There's always people that will be a Monday morning quarterback. In order for us to get this through, we had to make a presentation to the Diocese of Phoenix finance committee and the bishop had to sign off on the project. I showed them the math and the projections of what we could do. We had to make a compelling case that doing this is going to make a change on our bottom line to the positive and it has.
It's a huge opportunity for us and the science does support it. We're very committed to promoting earth stewardship. It's one of our core tenets.
We're in the process of working with Energy Star and getting an Energy Star rating. There are a lot of tools and companies like these that really can help you understand this whole process.
There's a bank partnership, if you qualify, called cost leveraging. If your electric bill was $2,000 a month and all these upgrades saved you 15 percent, you still would pay $2,000 a month until you satisfied the loan amount, through a special contract with the bank. There's no money out of pocket. It's a wonderful situation. As more Catholic churches come on board, these type of programs are going to be duplicated.
Q: What resources were most helpful to you?
A: It took me over three years and thousands of hours, but the more I saved, the more I got encouraged. If I would have done anything different I would've contacted an energy efficiency professional first so I wouldn't have had to invest thousands of hours.
This post appeared originally on our EDF Business Blog.
Credit for photos #1 and #3 above: Sacred Heart