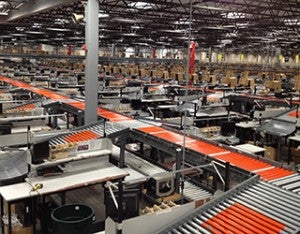 Business leaders have long agreed on the "why" of environmental management: seeing the value in increased profits, reduced waste, and a smaller carbon footprint. But the "how" has often been the stumbling block.
Two case studies released today from adidas Group and the Housing Authority of the City and County of Denver (DHA) help to answer that question, detailing energy management strategies that deliver tremendous value and are great examples for other organizations to follow.
The adidas Group tackled the dual challenge of improving efficiency in existing distribution centers as well as when specifying material handling equipment in new facilities. Recognizing that only reducing upfront costs during design won't optimize efficiency over the long term, the adidas Group is now analyzing the lifecycle cost of conveyer belts and other equipment. See the full case study here.
[Tweet "Business leaders have long agreed on the "why" of environmental management…what about the "how"? www.edf.org/cfu "]
Meanwhile, DHA tackled the challenge of expanding renewable energy resources despite limited capital funds. The solution: an innovative power purchase agreement that enabled the installation of a 2.5 megawatt solar project with minimal upfront costs and a stream of lease payments to benefit DHA. If the 3,300 housing authorities in the U.S. duplicated Denver's success, their rooftops could produce enough solar energy to power more than 1 million homes. See the full case study here.
Today's announcement comes on the heels of the recently released case studies of JLL andUrban Innovations, which have risen to the City of Chicago's challenge to reduce commercial building energy consumption by 20 percent in the next five years. By focusing on education, automation, and data, JLL and Urban Innovations each took leaps forward in energy efficiency.
EDF is thrilled to share these case studies as scalable solutions that companies across a wide range of industry sectors can adopt. Together, they show the diversity of organizations that benefit from EDF Climate Corps, and whet our appetite for the projects on tap for the summer of 2015, including Verizon, Shorenstein Properties, and Hill+Knowlton Strategies.
This post originally appeared on our EDF Climate Corps blog.